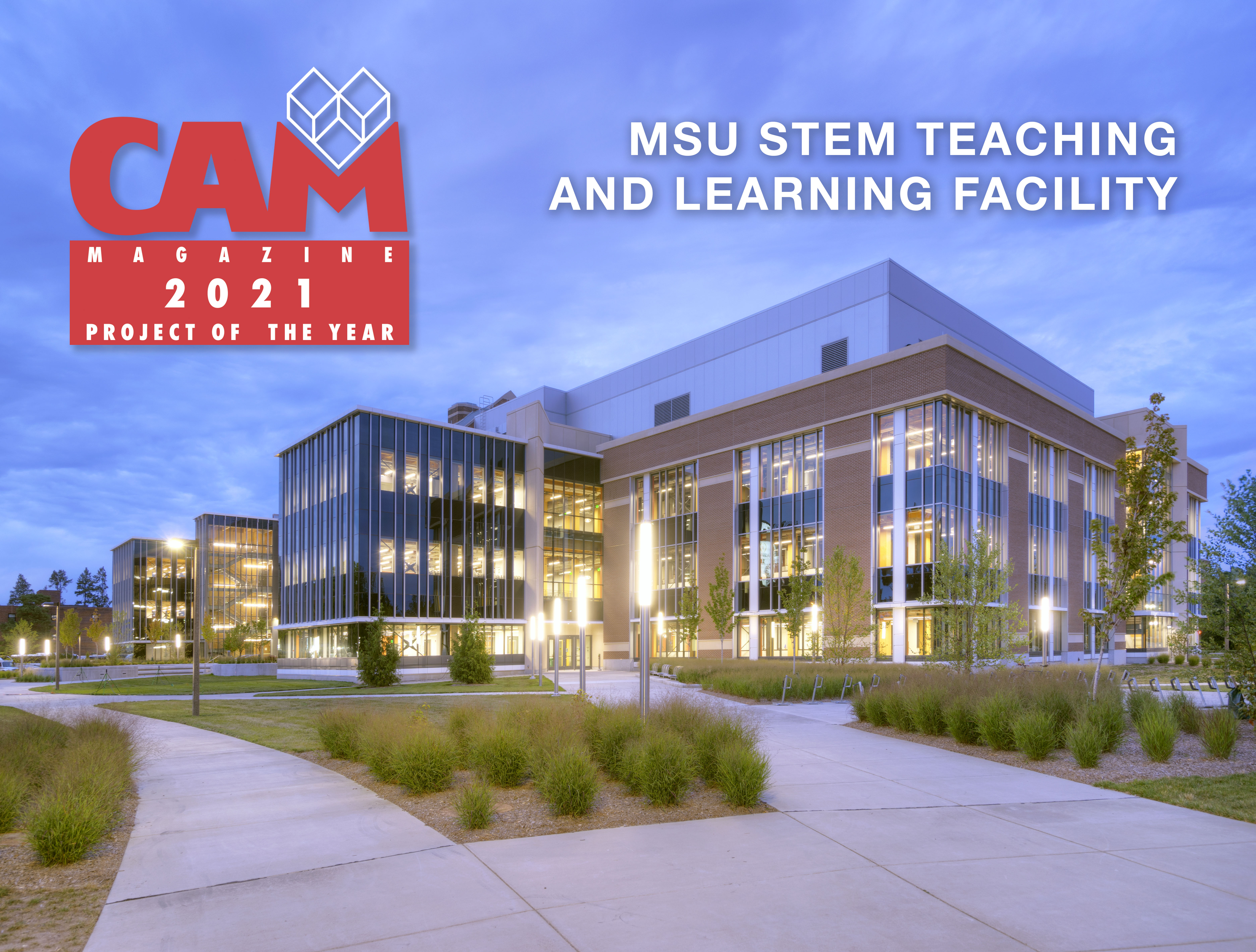 CAM Magazine Announces 2021 Project of the Year
---
The Construction Association of Michigan (CAM) Announces Michigan State University's STEM Teaching & Learning Facility Selected as the CAM Magazine Project of the Year 2021

The Construction Association of Michigan (CAM) recently announced that the STEM Teaching & Learning Facility on the main campus of Michigan State University in East Lansing has been chosen as the 2021 CAM Magazine Project of the Year. Congratulations to Construction Manager Granger Construction Company, Architects/Engineers Ellenzweig and Integrated Design Solutions, and Michigan State University. CAM's President Kevin Koehler made the announcement at the association's 136th Annual Meeting on Wednesday, February 16th at the Suburban Collection Showplace in Novi.MSU's impressive adaptive reuse of its long-abandoned Shaw Lane Power Plant into a transformational space dedicated to science, technology, engineering, and math courses is the first building in the state of Michigan that is constructed with a newer mass timber framing product called cross-laminated timber (CLT). This type of timber is an engineered type of multi-layered wood extending in two directions; it has strength, sustainability and is moisture resistant, and it requires no sanding, painting, or staining.
Encompassing 120,000 square feet of new construction with 40,000 square feet of renovated space, this project utilized the existing power plant as the central portion of the building, with large additions on the north and south sides. The completed building has allowed the University to consolidate a number of teaching laboratories and classrooms that were formerly dispersed across campus, creating a central hub for STEM teaching and learning.
"The technical detail and collaboration that went into designing and constructing this building make it a timeless STEM masterpiece itself," noted Bill Bofysil, Granger Construction Senior Project Manager. "We had modern tradespeople working alongside artisan skills and masonry from the 1940s. I couldn't imagine building this building without the technology we have today. For instance, Building Information Modeling (BIM) was essential for being able to visualize and plan for merging mass timber needs with existing artifacts and complex mechanical, electrical and plumbing requirements. The end result is a learning space that literally embodies applied STEM from its foundations to finish work."
"This project is a great representation of what the world-class architects, contractors, and men and women of Michigan's skilled trades are capable of designing and constructing," commented Kevin Koehler. "We are proud to have so many of these talented folks as part of CAM's membership."
In 2021, CAM Magazine celebrated 25 years of publishing its annual awards issue called the Special Issue. Early January, CAM puts out a call for its member companies to submit their best construction projects of the previous year. Twelve finalists are selected and featured in this issue, which comes out each October. The owners, general contractors, and architects from these projects are interviewed and sites toured prior to the writing of the feature articles. The Project of the Year is selected by the CAM Magazine Editorial Advisory Committee, magazine staff, and an online vote.
CAM is currently accepting submissions for its Special Issue 2022. To be eligible, projects must be constructed or designed by a CAM member company, and must have been completed – or reached substantial completion – between June 2021 and June 2022. The EXTENDED deadline for submitting projects is Friday, March 18, 2022. Advertising opportunities are available. CLICK HERE for more information and to submit your project.
The list of all 12 finalists and their project teams from CAM Magazine Special Issue 2021:
2021 PROJECT OF THE YEAR:
MSU's STEM Teaching & Learning Facility (East Lansing)
Construction Manager: Granger Construction Company
Architects/Engineers: Ellenzweig and Integrated Design Solutions
Owner/Developer: The Henry Ford Health System and Detroit Pistons
2021 FINALISTS (in no particular order):
CMU Chippewa Champions Center (Mt. Pleasant)
Construction Manager: Granger Construction
Architects: GMB Architecture + Engineering and Populous
Owner: Central Michigan University
Henry Ford Health System Brigitte Harris Cancer Pavilion (Detroit)
Construction Manager: Turner Construction Company
Associate Construction Manager: KEO & Associates
Architect & Engineer: SmithGroup
Owner: Henry Ford Health System
Berkshire eSupply Headquarters and Fulfillment Center (Novi)
Construction Manager: Oliver / Hatcher Construction
Project Designer: Moshe Appelbaum, Architect. In conjunction with Albert Kahn Associates, Associate Architect, Engineer, Landscape Architect and Interior Designer
Civil Engineer: The Mannik & Smith Group, Inc.
NMC Timothy J. Nelson Innovation Center (Traverse City)
Construction Manager: Spence Brothers
Architect: Cornerstone
Engineers: Nealis Engineering, Gosling Czubak Engineering Sciences and Trison Engineering
Owner: Northwestern Michigan College
ZEISS Michigan Quality Excellence Center (Wixom)
Construction Manager: The Christman Company
Architect & Engineer: SmithGroup
Owner: ZEISS
UM-Flint William R. Murchie Science Building Expansion (Flint)
Contractor: Commercial Contracting Corporation
Architect: HED
Owner: University of Michigan
The Press / 321 (Detroit)
Construction Manager: Turner Construction Company
Architect and Historic Consultant: Kraemer Design Group
Engineers: Peter Basso Associates, IMEG, Integrated Design Solutions and Giffels Webster
Owner: Bedrock
Beaumont-Farmington Hills Master Plan (Farmington Hills)
Construction Managers: Barton Malow Company and AIMS
Program Manager: Plante Moran Cresa
Architect: HKS Architects
Engineers: AECOM, Storey Engineering and IMEG
Owner: Beaumont Health System
United Wholesale Mortgage Training Center Expansion (Pontiac)
Contractor: The Dailey Company
Architect: Von Staden Architects
Engineers: Ruby + Associates and MA Engineering Mechanical Electrical
Owner: United Wholesale Mortgage
Michigan Veteran Homes (Chesterfield Twp. and Grand Rapids)
Construction Manager: The Christman Company
Architects: TowerPinkster and SFCS
Owner: Michigan Veteran Homes
Stellantis Mack and Warren Truck Assembly Plants Paint Shops (Detroit and Warren)
Construction Manager: Barton Malow Company
Paint Equipment Supplier and Overall GC: Giffin, Inc.
Architect & Engineer: Ghafari Associates
Owner: Stellantis
---

Quick Links