Recap: 2022 Great Lakes Design and Construction EXPO
A Homecoming for the Industry
By Dennis Burck
As exhibitors put the finishing touches on their displays, a steady stream of Michigan's construction industry rolled in the Suburban Showplace for the 2022 GLDC EXPO, a place where Michigan's architects, construction managers, owners, and suppliers meet as one to discover the latest and greatest in the construction industry.
They met for the Economic Breakfast, EXPO, and CAM's 136th Annual Meeting. The show returned to the Suburban Collection Showplace after a long and challenging two years.
"A wise man once said, everything we do of importance, we do in collaboration with others, and I think that could sum up the efforts of CAM over the last two years," 2020-2021 CAM Chairman of the Board Sam Ruegsegger said. "In these past two years, this organization has strategized, reorganized, and repositioned itself to meet the needs of our changing industry, and I am excited for things to come."
The Economic Forecast Breakfast
The event kicked off with perhaps the two most exciting things for the attendees — breakfast and economic charts.
The Economic Forecast Breakfast featured a presentation by the National Association of Home Builder's Assistant Vice President of Forecasting and Analysis Danushka Nanayakkara-Skillington. She focused on the inflation rate, interest rates, supply chain issues, and the construction industry's labor shortage. For the report click here.
"The biggest takeaway for me was the shortage in the workforce," OHM Advisors Construction Manager Gary Smolinski said. "I think we have to get creative in the way we introduce the younger generation into the workforce with the skilled trades. It is up to businesses like the one I work for to offer opportunities like internship programs to educate people and give out those skillsets."
Salesman Mike Mahoney of Gutherie Lumber said a lot of the presentation was history, but he liked how Nanayakkara-Skilington made a point to talk about where the industry is heading. "A lot of people talk about past statistics and tell us to just figure it out. She saw there would be a downturn within the next few years but the building business will not be too severe. And for building materials, we still have a market to catch up to. In our viewpoint, we are going to hold our own," Mahoney said.
TA Forsberg Inc. President Brent Forsberg said that he was focused on the numbers behind the labor shortage. "The trade industry is going in the hole 61,000 workers per month with the people that are retiring and lack of people going into trades. That will equal out to two million people we will be short on top of what we are already."
Forsberg added that inflation and interest rates are of some concern as well but expected.
"Inflation is up, but we will see that taper off to normal levels with the interest rates going up. While no one is really happy about that, we all knew it was coming. We can't stay at zero interest forever," Forsberg said.
"While the supply chain issues are tough, the demand for housing is there and that will keep us governed and stabilized."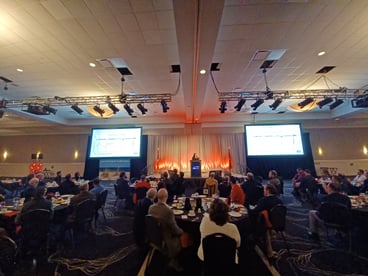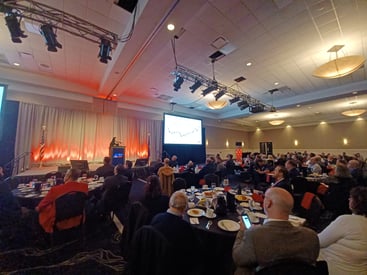 The 2022 GLDC EXPO welcomed over 90 exhibitors — it was a sold-out show. Construction equipment from the smallest tools to the largest trucks was sprawled among the showplace floor in assorted booths.
One of the most striking displays was a boulder in front of Cougar Sales and Rental Inc. embedded with six different concrete cutting tools. The oversized rock weighed 3,000 lbs. "A lot of people are asking if it's real. Hit it as hard as you can and you can tell me," Cougar Sales and Rental Inc. Sales Manager Tom Vaughn said. "We used our own machine and brought it in. It's always our centerpiece."
The Cougar team didn't have to move their weighty display piece far. The company's yard is visible from the showplace center. "We are out of Novi and deal with contractors' equipment primarily with mason contractors and cement contractors. We do anything having to do with concrete."
Vaughn is a longtime veteran of the EXPO and its iterations over the years dating back to when it was held at the Pontiac Silverdome. "This is a good show all through the years, and I'm glad to be here. A lot of these people we know, which is nice. But for us, we come because the decision-makers are here. That's a big deal."
On the other side of the showroom, manufacturer's representative Thomas Huck of JW Sales was showcasing a line of plumbing equipment and heated floors. On display were products from California Faucet, Blanco Sinks, and Legend Radiant Floor Systems. "We are a Michigan-based manufacturer's representative firm that represents plumbing and heating primarily. We sell to plumbing and heating distributors. Many of our products end up in residential and commercial construction. This event provides us the opportunity to meet with folks as the end-users, so that's why we're here."
But there were plenty of exhibitors without equipment to showcase as well.
Account executive Tom Skuza of VTC Insurance Group came to the show for prospects and to further give VTC a presence in all things construction. Skuza has been in the insurance business for 50 years. "We are a general insurance agency that specializes in the construction industry. We are also a major surety broker. A lot of contractors who work with CAM need bonds to work. We provide the surety bonds. On the insurance side, we are the largest independent agent in the state and represent 40 insurance companies as well as specialty companies," Skuza said. "Since we've been in the industry so long, we need people to know we are still here and have a presence. We love it. It's a good industry."
Near the EXPO floor entrance, Contractor's Rental Corporation (CRC) and AIS Construction Equipment Corporation fielded questions from a host of attendees. The family-owned Michigan company has been in business for over 60 years, renting and selling primarily John Deere brand construction vehicles and equipment.
"We do a little bit of everything from new sales to used sales, equipment transport to trucking rentals. We also do parts and services on all makes and models," Pat Lewis said. "Every meeting is still like a family-owned company with the owners present. We help our customers make and save money. They [ownership] give us the tools to do that too so it's a nice company to work for," he added. Click here for more EXPO photos.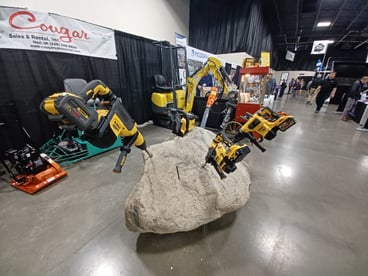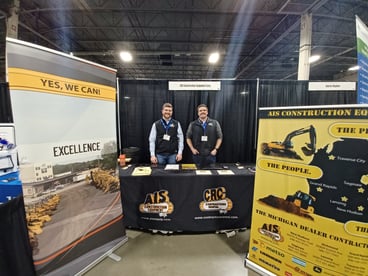 2021 Project of the Year
The 136th CAM Annual Meeting saw the crowning of CAM Magazine's Project of the Year. For 2021, the Michigan State University's STEM Teaching & Learning Facility won the award as selected by the CAM Magazine editorial board, CAM staff, and an online vote.
MSU's impressive adaptive reuse of its long-abandoned Shaw Lane Power Plant into a transformational space dedicated to science, technology, engineering, and math courses is the first building in the state of Michigan that is constructed with a newer mass timber framing product called cross-laminated timber (CLT). Encompassing 120,000 square feet of new construction with 40,000 square feet of renovated space, this project utilized the existing power plant as the central portion of the building, with large additions on the north and south sides. The project team included architects/engineers Ellenzweig and Integrated Design Solutions, and construction manager Granger Construction Company.
Other nominees for the 2021 awards included CMU Chippewa Champions Center; Henry Ford Brigitte Harris Cancer Pavilion; The Press/321 Building; UM-Flint William R. Murchie Science Building Expansion; ZEISS Michigan Quality Excellence Center; NMC Timothy J. Nelson Innovation Center; Beaumont Hospital-Farmington Hills Master Plan; United Wholesale Mortgage Training Center Expansion; Stellantis Mack Avenue and Warren Truck Assembly Paint Shops; Michigan Veteran Homes; and Berkshire eSupply HQ and Fulfillment Center. All of the projects were featured in CAM Magazine's October 2021 Special Issue.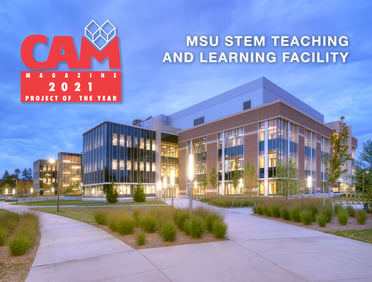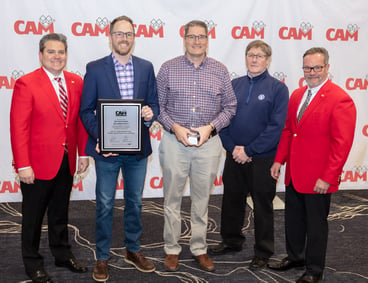 A New CAM Chairman
The event concluded with the inauguration of CAM's 2022 Chairman of the Board. After serving as Chairman for two years due to the pandemic, 2020-2021 CAM Chairman of the Board Sam Ruegsegger inaugurated the 2022 Chairman of the Board Joshua Barney with the CAM red chairman's jacket.
Barney, a member of the multi-generational construction firm J.J. Barney Construction and a successful trial attorney, thanked his fellow board members for having faith in him to lead the organization through 2022.
"Before I was in the construction industry, I was a trial attorney in Chicago. I successfully defended or prosecuted over $100 million worth of claims. Except for starting at J.J. Barney Construction, I would say that serving as CAM's Chairman is the highlight of my professional career," Barney said.
Throughout his tenure in 2022, Barney said that he looks forward to the pandemic coming to a close and the jobs held up due to COVID and COVID-related issues returning. "There is a lot of pent-up demand and jobs that will get going. It is an exciting time to be in the industry. I feel like we can see the light at the end of the tunnel. It's been a long two years, and frankly, it's been too many years."
Barney will be the first millennial to serve as CAM Chairman of the Board.
"It is a symbol of progress and things to come. I talked in my speech about doing things differently. The construction industry is a little bit slow to adapt at times. Especially considering the current labor shortage, we can't be doing things the way we've been doing them for years and expect a different result," Barney said. "We have to think outside the box and get outside of our comfort zone."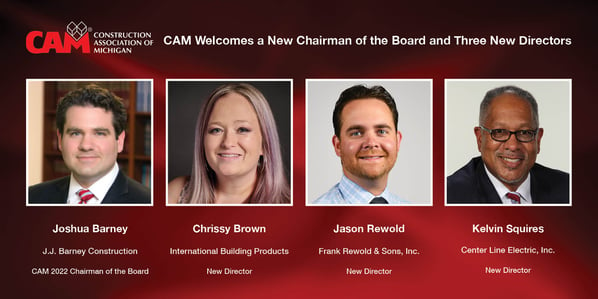 The 2022 Great Lakes Design and Construction EXPO was hosted jointly by the Construction Association of Michigan and the Home Builder's Association of Southeastern Michigan. The event was generously sponsored by Lake Michigan Credit Union, Sherwin-Williams, Occupational Care Services, Crystal Clear, KSI Cabinetry, HR Pro, Miss Dig 811, Autodesk, Michigan Insurance and Financial Services, and Milwaukee Tools.
---
About the Author
Dennis Burck, Construction Association of Michigan's Prebid Reporter and Editorial Writer, earned a BA in journalism from Wayne State University in 2017, spending two years as a new development and general assignment reporter for the Lansing City Pulse. At the Pulse, Burck was tasked with writing the paper's "New in Town" column, tracking commercial and city developments from construction to completion. His work also appeared in the Detroit Metro Times, Metro Parent, Model D Media and the National Endowment for the Humanities' magazine.