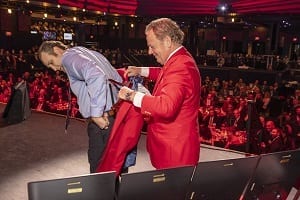 CAM Members Elect New Board
At the 133rd Annual Meeting of the Construction Association of Michigan (CAM), held February 5, 2019, at MotorCity Casino Hotel in Detroit, the association's new officers and directors, who will serve on the 2019 Board of Directors, were installed.
CAM's new 2019 Chairman of the Board is Kevin Foucher, Vice President, Construction, Commercial Contracting Corporation, Auburn Hills. Newly promoted to CAM Vice Chairmen are: Kerlin Blaise, Blaze Contracting, and Erik Wordhouse, Edwards Glass Company. CAM's incoming Treasurer is Samuel Ruegsegger III, The Christman Company.
Each year, three Directors retire from CAM's 12-member board, and three new Directors are elected by the CAM Membership. The newly elected 2019 Directors are: Tricia Ruby, President/CEO, Ruby+Associates, Inc., Bingham Farms; Matthew Cramer, President, Dee Cramer Inc., Holly; and Frank Jonna, CEO, Jonna Companies, Detroit. Outoing Directors include Joseph Fontanesi, Fontanasi and Kann Company; Tom Broad, Midwest Steel; and Jennifer Panning, Artisan Tile.
Other current members of the CAM Board of Directors are: Joshua Barney, JJ Barney Construction; Jeffrey Chandler, Valenti Trobec Chandler Inc./VTC Insurance Group; Stephen Frantz, Motor City Electric Company; Michael Green, John E. Green Company; and Paul Stachowiak, Integrated Design Solutions, LLC.