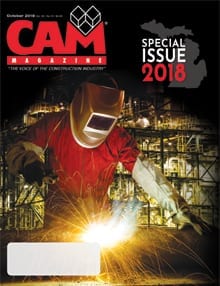 2019 Special Issue Awards: Submission Deadline Extended!
If you have a groundbreaking, beautiful, complicated construction project that deserves to be featured in the October 2019 CAM Magazine Special Issue, submit your entry today!
CAM Magazine's Special Issue is published each October. It highlights the 12 most outstanding construction projects, as determined by the CAM Magazine staff and the CAM Magazine Editorial Advisory Board. Any project constructed or designed by a CAM member company, which has been completed or reached substantial completion between June 2018 and June 2019, is eligible for consideration.
As an added bonus to being featured in Special Issue 2019, the General Contractors/Construction Managers/Architects of each winning project will be presented with a commemorative plaque at an award ceremony held at the Michigan Construction & Design Tradeshow in February 2020. They will also be eligible to be voted as the CAM 2019 Project of the Year.
There are great advertising opportunities in Special Issue 2019. Ad reservations can be made by calling Roy Jones at (248) 972-1115. The advertising deadline is August 23, 2019.
The deadline for submission has been extended to Friday, March 15, 2019. Click here to download your entry form.