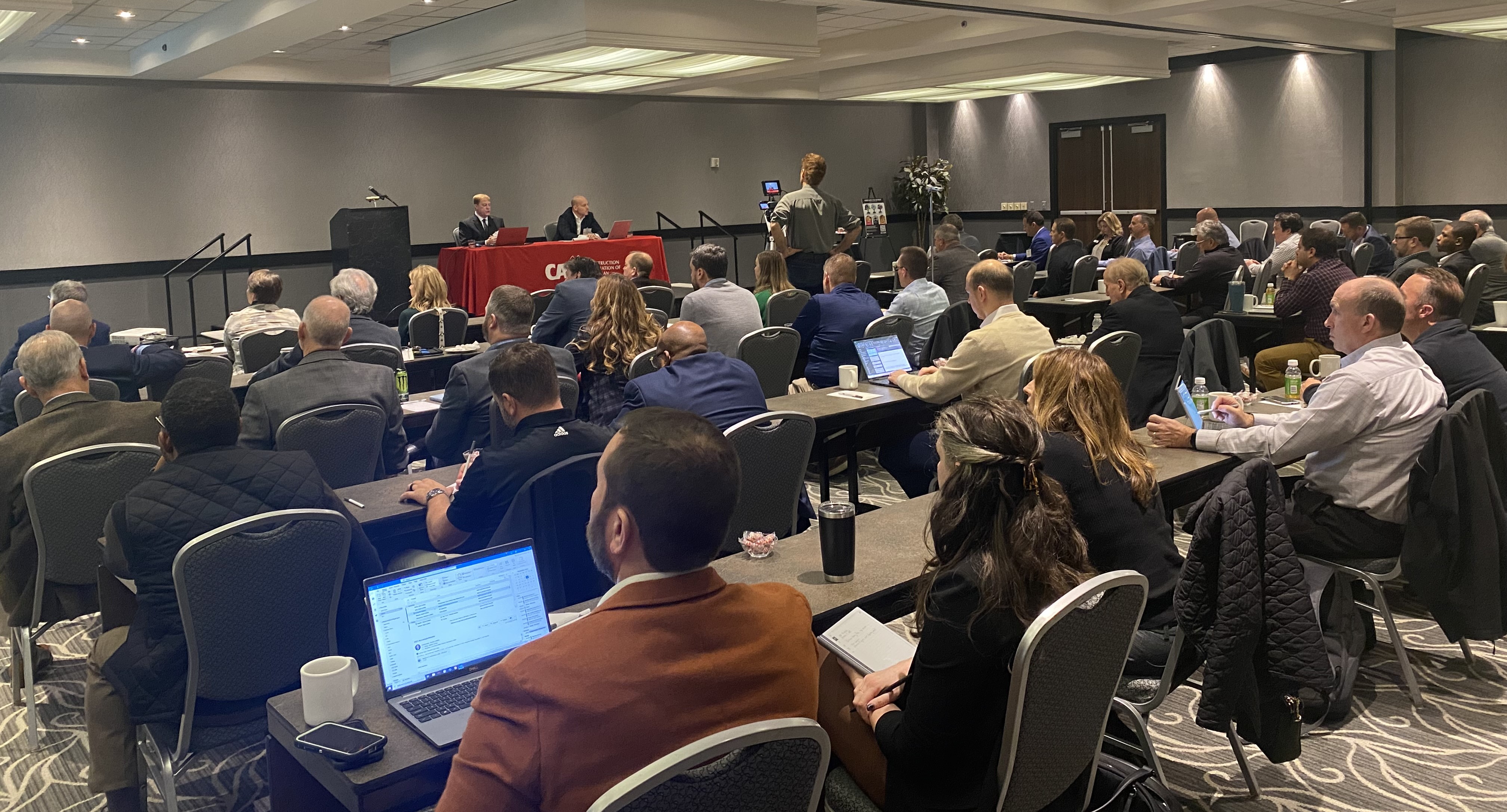 Building America 2.0 Presentation Recap
Stimulus Bills Present Massive Opportunity for Michigan's Construction Industry
By EMILLY DAVIS
Despite talks of a looming recession, the commercial construction industry could be booming for the foreseeable future, thanks to three massive federal stimulus bills intended to improve the country's infrastructure. The Construction Association of Michigan hosted a presentation titled "Building America 2.0" on November 9th to discuss a once-in-a-generation opportunity for substantial growth in Michigan's construction sector… if approached carefully.
The presentation's speakers were Alex Calderone and Patrick Bero of Calderone Advisory Group, a Birmingham, Michigan-based boutique financial advisory and litigation support consultancy. Alex Calderone is a seasoned advisor in the construction sector with a history of guiding contractors and skilled trade organizations through various economic cycles. Bero has more than 30 years of experience in real estate, hospitality, gaming, financial, and public sectors.
Calderone Advisory Group's presentation was jam-packed with data and information the company researched through various government, industry, and corporate sources.
The upcoming construction opportunities are primarily a result of three governmental initiatives: The U.S Bipartisan Infrastructure Deal, the Inflation Reduction Act, and the CHIPS and Science Act.
The U.S Bipartisan Infrastructure Deal authorizes $1.2 trillion in government spending over the next 10 years. This includes billions of dollars for improving the national transportation network such as roads and bridges, airports and waterways, public transit, and electric vehicle infrastructure.
The Inflation Reduction Act aims to curb inflation by reducing the government budget deficit, lowering prescription drug prices, and investing in domestic energy production while promoting clean energy. This includes spending in energy, manufacturing, building retrofits and energy efficiency, and transportation.
According to the White House, the Inflation Reduction Act could bring Michigan at least $10.8 billion over 10 years for several initiatives: repairs to roads and bridges, public transportation, electric vehicle charging networks, broadband connectivity, climate change, water infrastructure, and airport enhancements.
The Creating Helpful Incentives to Produce Semiconductors (CHIPS) and Science Act provides billions of dollars in new funding to boost domestic research and manufacturing of semiconductors in the United States. This includes money for STEM, research and development, and workforce and economic development program authorizations for the National Science Foundation, U.S Department of Energy, and the U.S Department of Commerce. Additionally, it includes subsidies for chip manufacturing on U.S soil and billions in tax credit, subsidies, loan guarantees, and other incentives to promote domestic semiconductor chip production.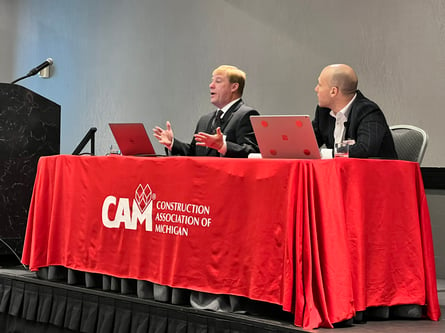 Converting Office Space, Automotive Lead Potential Projects
Both Calderone and Bero said that office redevelopment promises one of the biggest construction opportunities for the metro Detroit region. Since the COVID-19 pandemic, office space vacancies have been on the rise, according to Bero. According to CBRE, with increasing numbers of employees preferring to work from home, vacancy rates in metro Detroit offices rose to 19.1% at the end of Q2 2023.
Bero said that, while there is still demand for premiere – Class A – office space, there is a divide between interest in Class A space and secondary office buildings that's going to continue to widen. Bero suggests converting those office buildings into hotel space.
"What do you do if you are an owner of office space that is not Class A and that has very large vacancies and falling rent?" Bero asked. "You could remove supply through the conversion and or demolition of existing space to create the demand and impact the market that way."
As former head of the Detroit Regional Convention Facility Authority, Bero said he frequently heard from convention organizers that the city doesn't have enough hotel rooms. In fact, Detroit places last among its competitive set for convention center hotel rooms, he explained, falling nearly 3,300 rooms short of the average in that group.
While Detroit features quite a few boutique hotels offering 200-300 rooms apiece, Bero said there aren't many big-box hotels offering about 750 rooms, which is what is more desirable to convention center customers.
"So how can we accomplish the goal of getting big-box hotels and doing it in such a way that it still makes it a little affordable for developers? It's converting the office space. There's a lot of sub Class A office space in downtown Detroit that are sizable buildings. Those buildings can be converted at a fraction of the cost," he said.
Building a big-box, 750-room hotel can cost about $450 million, but Bero said that a developer could convert the right office building into a big-box hotel for almost half the cost, which he said could be a great opportunity.
Another key sector showing major potential is the Detroit industrial logistics market. While the local office markets relative to national numbers were down for Detroit, Bero said the local industrial logistics market is strong with vacancy rates around 2% according to CBRE.
CBRE also indicated that during Q1 2023, the average asking lease rates increased to $7.23 per square foot, the highest they've ever been in metro Detroit. More than 2.5 million square feet of leases were signed in the first quarter, with most of those being new leases. Projects under construction in this sector totaled just over 5.6 million square feet, and nearly 50% of these developments are underway in the downtown Detroit and Downriver markets.
"This is a very strong sector. And if you're looking for speculative projects or you're thinking, 'Where is the demand going to come from?' the industrial logistics sector in Detroit is booming…and is going to continue to boom for the foreseeable future," Bero said.
Additionally, there is significant activity in the electric vehicle market in Michigan:
Aging Workforce, Lack of Population Growth Challenge the Industry
While there is significant potential, there are also significant challenges facing Michigan's construction industry. This includes an aging workforce and a lack of new people coming into the industry.
Currently, 20-25% of the state's construction industry workforce is 55 or older, which means that a large segment of the field is nearing retirement. And unfortunately, Bero said, there is not a sufficient supply of new workers coming online due to a shrinking talent pool and fewer high school kids going into trades.
Making the situation worse, Bero said, is Michigan's stagnant population. Since 1990, the national population has grown by nearly 33%, while Michigan's population has increased by less than 8% during that same period.
"The growth of population nationally is far greater than the growth that Michigan is experiencing. And so when you step back and you say, 'Wow we really need construction jobs, we need skilled trade laborers, and we need to grow that sector,' part of what we rely on is the population of the state itself," Bero explained. "And our state is not growing nearly as quickly as the rest of the country."
According to the U.S Bureau of Labor Statistics, the U.S employed workforce over the next 10 years is expected to grow by 4.6 million, with employment in the construction sector expected to grow by 115,000 nationally. However, Bero said that current data suggests Michigan's construction industry will only increase by about 730 jobs during that same 10-year period.
"There are some things that are going to have to be done with regard to employment that is beyond just observing the national organic growth and trying to capture some people and get them trained and get them into the industry," Bero said. "We're going to have to think creatively." He said that short-term fixes include:
Aggressive recruiting and training campaigns in high schools and colleges
Increasing pay and benefits
Flexible work arrangements
Recruiting from out of state
Automating tasks where possible
Rolling out attractive policies to retain part-time workers
For larger companies, investing in employee housing during large projects.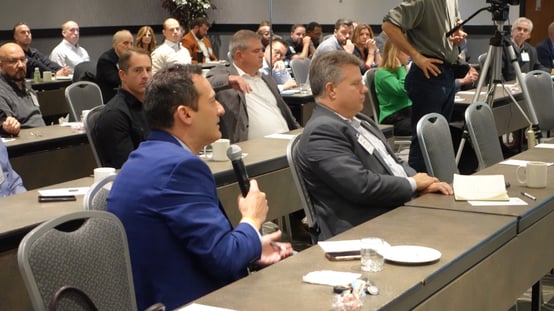 Addressing workforce challenges over the long term will require state leaders to address overall competitiveness across the board in order to make Michigan an attractive destination relative to other states, he said. Otherwise, other states will "swoop in" and take the potential business.
"If we don't do something to address the issues that are suppressing our employment, I can promise you that these things are going to get built," Bero said. "If this money flows into the state, these things are going to get built…but the question is by who?"
Delays and Cancellations, Supply Chain Issues Present Risks
In addition to labor shortages, there are potential risks that come with this opportunity, Calderone said, such as construction delays and cancellations. "These projects can stop, they can be delayed, they can be postponed, they can be scoped down," he said. "I've seen a lot of companies that have not been able to survive due to these types of risks materializing. Delays and cancellations will happen."
Both Calderone and Bero have advice to help mitigate the risk:
Maintain variable cost structure as much as possible during uncertain times, and manage financial leverage, as well
Diversify project portfolios
Know your customers' finances
Keep projects at least 'neutral' billed
Don't waste capital on investments that are unlikely to generate an ROI
Operate as lean as possible and leverage technology to reduce labor costs where feasible
Utilize bonded subs to the extent possible
Obtain credit insurance on accounts receivables when possible
Participate in CAM presentations, industry conferences, and read the newspapers to stay informed
Employ and incentivize competent, motivated people to manage your companies/departments/divisions
Supply chain risks are another issue facing the industry, both due to anticipated continued inflation and geopolitical risks. "Our firm institutionally does not see costs going down any time soon, in really any category of input that goes into construction," Calderone said. "We do foresee continued inflation." To best manage this, his biggest piece of advice was to seek to ensure supply chains are diversified while also entering into contracts that include locked-in protections against price increases.
Additional advice from the firm includes:
Work with a trade attorney to ensure regulatory compliance with governmental laws
Identify substitute suppliers
Pay close attention to geopolitical trends and risks
Utilize AI technology and machine learning as a hedging tool
Consider horizontal and vertical integration
Develop strategic partnerships with suppliers
Consider enacting a policy of financial review for critical suppliers and vendors whose concentration presents risks for your company
Additionally, there are challenges in regard to financing, Calderone said. The cost of capital has risen significantly over the last 18 months and is likely to continue to remain elevated. So, it's more important now than it's ever been to "stay close to the numbers," he explained. "When we're in the trenches and we see challenges in this industry, it's typically because people didn't understand the costs, their estimates, and they didn't have a good enough finger on the pulse to be able to react before something bad happened."
Transparency and communication to lenders is critical, he said, as is demonstrating that financial reporting and forecasting tools are reliable. Some other advice included:
Wherever possible, align billings/cash collections with work performed so customers pay for working capital needs
Analytic rigor and sound WIP review processes will ensure jobs are profitable
Consider teaming arrangements through JVs/partnerships
Mergers and acquisitions can be a great strategy to grow
Avail yourself of any and all tax credits, grants, and other forms of governmental assistance
Lastly and importantly, Calderone said that this transition to America 2.0 is not driven by market demand but through government goals and mandates. Nationally, there is disagreement on the costs and benefits in transitioning from a fossil fuel-based energy market to one focused on electric vehicles, as well as on wind and solar power.
"This is not consumer-driven, it's not demand-driven – it's driven by regulation and politicians," he said. "This is a forced transition that's not economically viable today. So, get in on it, go after the dollars, take advantage of the opportunity, but recognize: this one's riskier than prior cycles. Watch your downside, watch your exposure, and be nimble."
---

Alex A. Calderone
President
Calderone Advisory Group
Alex Calderone is the President of Calderone Advisory Group, a consultancy specializing in middle-market business challenges and opportunities. With a distinguished career that includes tenures at KPMG and Conway MacKenzie (now Riveron), Alex brings a wealth of expertise in advising both distressed and healthy companies in both the construction and automotive sectors. Alex can be contacted at alex@calderoneag.com.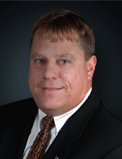 Patrick S. Bero
Executive Director
Calderone Advisory Group
Patrick Bero brings to the table over 30 years of rich experience serving diverse sectors including real estate, hospitality, gaming, financial, and public sectors. His clientele spans state and municipal governments, multinational organizations, middle-market companies, and sole proprietors, showcasing his versatility and depth of understanding in various industries. Patrick can be contacted at pbero@calderoneag.com.