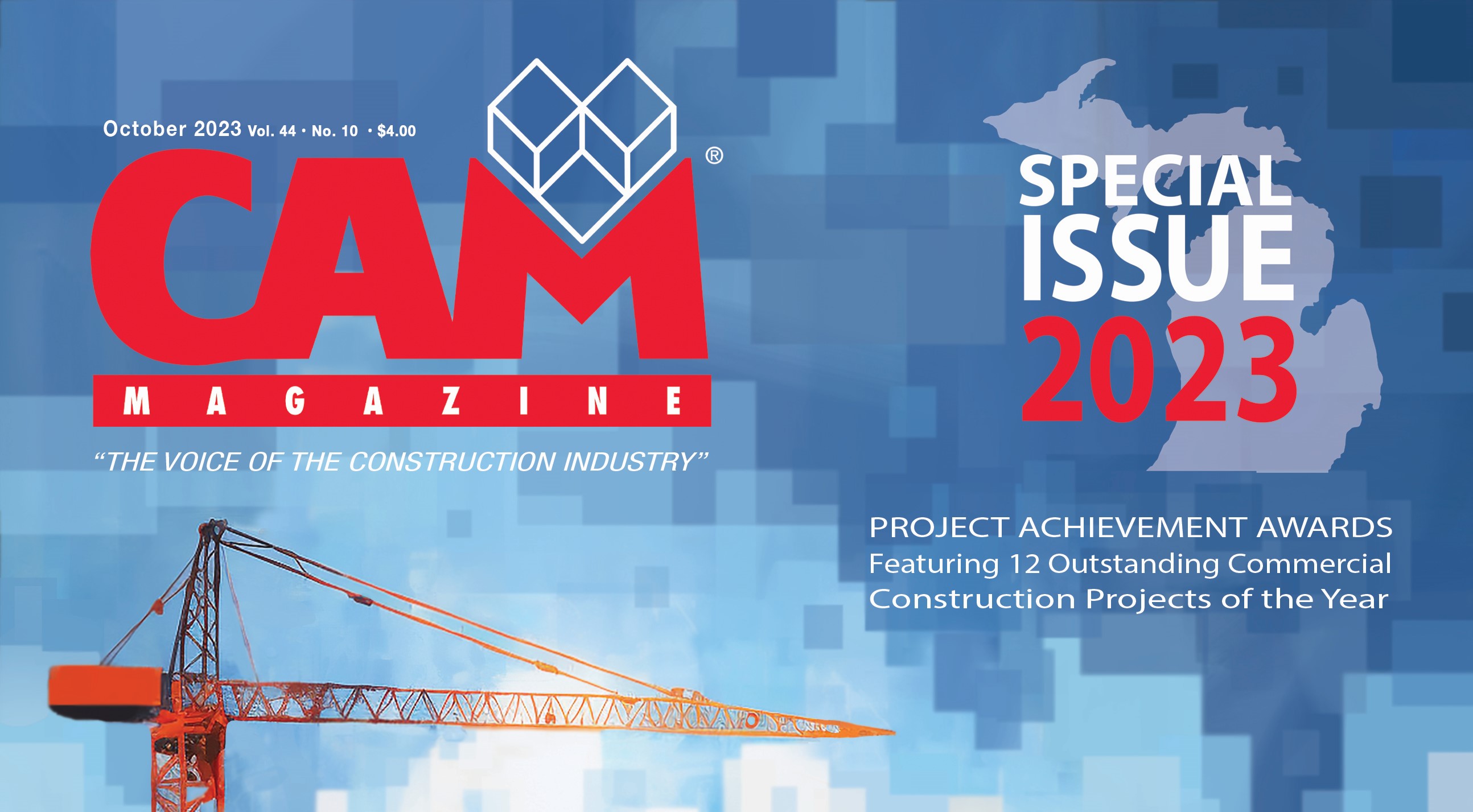 CAM Magazine October Special Issue 2023 Is Ready to View
October 16, 2023 - Bloomfield Hills, MI – CAM Magazine Releases Its October "Special Issue: Project Achievement Awards," Featuring 12 Outstanding Construction Projects in the State of Michigan
The Construction Association of Michigan is excited to announce that its CAM Magazine October Special Issue is ready to view! This 132-page, full-color issue of the magazine features 12 outstanding construction projects in the state of Michigan as submitted by CAM member companies. Projects featured were completed or nearly completed between June 2022 and June 2023.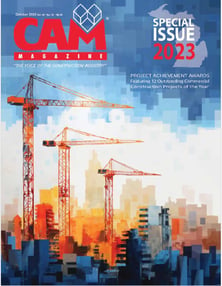 This year's finalists include:
Ruth Ellis Clairmount Center
Owner: Ruth Ellis Center
Developer: Full Circle Communities
Architect: LBBA Architects
General Contractor/Construction Manager: O'Brien Construction Company
MEP Engineer: Strategic Energy Solutions, Inc.
Structural Engineer: SDI Structures; Civil Engineer: PEA, Inc.
Wacker Innovation Center & Regional Headquarters
Owner/Developer: KIRCO
Architect: HED
General Contractor/Construction Manager: KIRCO MANIX
Civil Engineers: PEA Inc.; Orchard Hiltz & McCliment, Inc. (OHM)
Electrical/Mechanical Engineer: HED
Roosevelt Park
Owner: City of Detroit, General Services Department
Architect: OHM Advisors
Contractor: WCI Contractors Inc.
Landscape Designer: WH Canon
Walled Lake Early Childhood Center
Owner: Walled Lake Consolidated School District
Construction Manager: AUCH Construction
Architect: TMP Architecture, Inc.
Book Tower
Owner/Developer: Bedrock
Contractor: Brinker|Christman, A Joint Venture
Architects: ODA, Kraemer Design Group (historic preservation architect)
Engineers: Giffels Webster (civil engineering), BuroHappold Engineering (mechanical, electrical, plumbing, structural, lighting, and façade work)
Ingham County Justice Complex
Owner: Ingham County Building Authority
Owner Representative: Kramer Management Group
General Contractor: Granger Construction Company
Architect and Mechanical Engineer: BKV Group
Structural Engineer: IMEG Corp.
Woodward West
Owner: The Platform and Queen Lillian
Construction Manager: Sachse Construction
Architect: Hamilton-Anderson Associates
Mechanical/Electrical/Plumbing Engineer: Strategic Energy Solutions
Structural Engineer: Silman
Civil Engineer: OHM Advisors
Monark Grove Clarkston
Owner/Developer: KIRCO
Architect: pH7 Architects
General Contractor/Construction Manager: KIRCO MANIX
Civil Engineers: Environmental Engineers, Inc.
Geotechnical Engineers: Soils and Material Engineers (SME)
Electrical Engineer: Epic Electrical, LLC
Mechanical Engineer, Electrical Engineer, Plumber: PE Services
Huntington Tower
Owner: The Herrick Company, Inc.
Architect: Neumann/Smith Architecture
Construction Manager: Colasanti Construction Services, Inc./MiG Construction Joint Venture
Mechanical/Electrical/Plumbing Engineer: Peter Basso Associates
Civil Engineer: Giffels Webster
Façade Engineer: BuroHappold
Structural Engineer: IMEG
Exterior Lighting Design: Illuminart, a Division of Peter Basso Associates
Interior Design: Neumann/Smith Architecture
Orion Township Municipal Complex
Owner: Orion Township
Construction Manager: Cunningham-Limp
Architect: Auger Klein Aller Architects
Civil Engineer: OHM Advisors
MEP Engineer: Strategic Energy Solutions
Structural Engineer: Stoney Creek Structural Engineering
Kettering University Learning Commons
Owner: Kettering University
Architect & Engineer: Stantec
Construction Manager: Clark Construction Company
Civil Engineer: Spalding DeDecker
Shelby Township Public Library
Owner: Charter Township of Shelby
Architect and Engineer: Anderson, Eckstein & Westrick, Inc.
Civil Engineering & Surveying: Nowak & Fraus Engineers
Contractor: Bernco, Inc.
Full contractor lists for these projects can be found in the 2023 CAM Magazine Special Issue.
Interested in hearing more about this celebrated publication? Each year, CAM puts out a call for its member companies to submit their best projects of the previous year – 12 finalists are selected and featured in the magazine. The owners, general contractors, and architects from these projects are interviewed and most sites toured prior to the writing of the feature articles. From the 12 finalists, the Project of the Year is selected by the CAM Magazine Editorial Advisory Committee, CAM staff, and an online vote. CAST YOUR VOTE NOW
CAM is already planning for next year and is accepting submissions for its Special Issue 2024. To be eligible, projects must be constructed or designed by a CAM member company, and must have been completed – or reached substantial completion – between June 2023 and June 2023. The deadline for submitting Special Issue 2024 projects is Friday, March 24, 2023. Advertising opportunities are available. CLICK HERE for more information and to submit your project. Let CAM share the story of your beautiful, challenging, compelling, and noteworthy buildings constructed over the course of the prior year.
CAM Magazine, established in 1980, is the official publication of the Construction Association of Michigan (CAM). It is a monthly, full-color, glossy magazine devoted to the individuals and companies who comprise the commercial construction industry in Michigan. CAM is the oldest and largest regional construction association in the United States. Founded in 1885, CAM is a not-for-profit organization based in Bloomfield Hills, MI, consisting of approximately 1,800 member companies, including general contractors, subcontractors, equipment and material suppliers, architects, engineers, and service firms. Visit www.BuildwithCAM.com for more information.