Recap: 2023 Great Lakes Design and Construction EXPO
Providing the Tools You Need to Support Your Continued Growth and Success in Michigan's Construction Industry

The
2023 Great Lakes Design and Construction EXPO
took place at the Suburban Collection Showplace in Novi on February 15, 2023. This year's EXPO included more than 105 exhibitors in 140 booths, coming together to showcase their products and services for nearly 1,400 visitors, local business owners, contractors, architects, and more to network and learn about the ever-changing industry.
This year's event, a joint show by the Construction Association of Michigan and the Home Builders Association of Southeastern Michigan, combined the Great Lakes Design and Construction EXPO, Economic Forecast Breakfast, and CAM's 137th Annual Meeting. Attendees, including residential and commercial contractors, designers, suppliers, and service providers, enjoyed networking opportunities and business-building workshops designed to support the continued success of Michigan's construction industry.
CAM's EXPO Manager Ron Riegel was pleased with the turnout this year, from both exhibitors and attendees. "Construction business in the state of Michigan is strong. People feel good and want to get out and see what's new, network with their long-time colleagues, and meet new business partners," said Riegel. "Our numbers are up, and feedback from this year's show is extremely positive."
Tom Thompson, Vice President of R.S. Dale, said this was his 15th year exhibiting at the show. "The EXPO helps not only by getting us out there, but enjoying the networking capabilities of seeing your customers, potential customers, current customers - you don't always get an opportunity to just walk into their office and spend time with them, so this is a great venue for that." He said the relationship with CAM and all the things the association does for them is reciprocal. "It's a great way to network and meet people. There are lots of great resources in the plan room and opportunities to save money from different programs," he said.
Sherwin-Williams has been a member of CAM and an active participant in the EXPO for many years. "We try to partner with many companies in the area, specifically homebuilders and general contractors. We really try to create that partnership between Sherwin-Williams and them, and we are here to support our customers," said Al Nita, a commercial representative for the company. "We don't have a business without our customers, and this is another platform to get in front of people." Being a member of CAM and attending the show has allowed them to connect with people they traditionally wouldn't be able to meet. "A lot of times, we end up doing business together. Perhaps they would have never thought of coming to Sherwin-Williams in the first place (without meeting at the EXPO)," he said.
Mark Kaiser, a Commercial Manager of Schluter Systems, said that it was his second year at the event. "It's about making connections and relationships; we always want a presence in the market, and we get that here."
The Economic Forecast Breakfast
The State's Economy to Slow but Not Reverse Course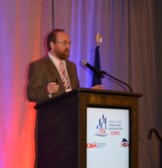 The day kicked off with an Economic Forecast Breakfast, featuring a presentation by Dr. Daniil Manaenkov, U.S. Forecasting Specialist for the University of Michigan's Research Seminar in Quantitative Economics (RSQE). Dr. Manaenkov addressed GDP growth and inflation, and provided an outlook of the industry for 2023-2024, followed by Q&A. The key takeaway is that trends from 2022 continue into 2023-2024: inflation is continuing to creep up and labor demand remains high. The baseline forecast coming out of the RSQE indicates that Michigan's economy will slow down but not reverse course amid the mild national recession that's expected later this year. Their research shows that the ongoing backlogs of demand in the automotive sector should protect Michigan's economy from the brunt of the national slowdown that is foreseen.
CAM's 137th Annual Meeting
Addressing "The Challenge of Change"
CAM's Annual Meeting is an opportunity for the Construction Association of Michigan to provide its members with a report on the health of the association, a review of accomplishments from the prior year, and plans for the coming year. In addition, the luncheon event recognizes the outgoing chair of the board, inducts the new board members, and celebrates the CAM Magazine Special Issue Project winners.
The theme of this year's Annual Meeting was "The Challenge of Change: If You're Going to Rise to the Challenge, You Have to Be Prepared to Change." Presenting this year's Keynote Address was Jim Bitterle, Managing Partner with EDSI and author of the book "Unquittable: Finding & Keeping the Talent You Need." Bitterle's address focused on the challenges facing employers in today's job market and strategies for retaining key employees.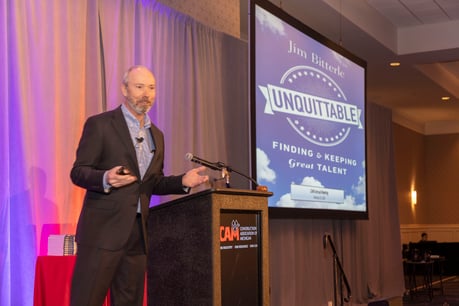 We've all heard of the Great Resignation, the mass departure of employees across all industry sectors - the Bureau of Labor Statistics (BLS) projects that it will continue to get worse. "The last statistic I saw says there are about 400,000 vacancies in the construction industry," said Bitterle. "But that 400,000 number is way understated, because that's based on construction jobs that are posted. How many companies aren't even posting these positions?" Specific to the construction industry, he has found that workers under the age of 24 have an average turnover rate over 60%.

But there are dozens of examples of firms that have successfully recruited and retained staff. Bitterle points to four key strategies for reducing turnover: culture, flexibility, creating a purpose, and providing opportunities for growth. He goes on to say, "We have to be very intentional about showing them how they can grow. In the construction industry, that's an area we really need to do a better job." He feels strongly that to successfully manage the change, we've got to make talent management a key strategic priority.
CAM Magazine's Special Issue Awards
CAM Announces 2022 Project of the Year
The 137th CAM Annual Meeting saw the crowning of CAM Magazine's Project of the Year. For 2022, the Ford House Visitor Center and Administration Building in Grosse Pointe Shores won the award as selected by the CAM Magazine editorial advisory committee, CAM staff, and an online vote.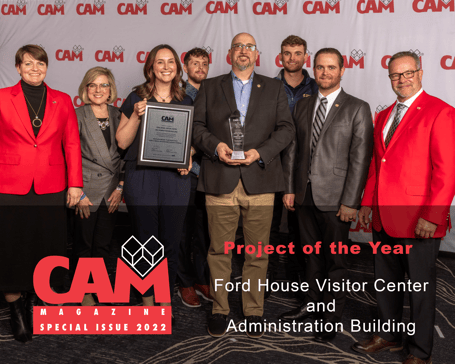 The Ford House consists of a 40,000-square-foot Visitor Center and 17,000-square-foot Administration Building. The team of Frank Rewold & Sons and SmithGroup were chosen to create this new collection of stone-clad buildings just down the lane from the original lakeside historic home of Edsel and Eleanor Ford. The state-of-the-art Visitor Center brings a new restaurant, four event spaces, exhibition spaces, expanded program offerings, and breathtaking views of Ford Cove. Both the Visitor Center and Administration Building are evocative of the Cotswold style of the original Ford house but contemporary in its precision detailing. Both were designed to be Net Zero energy-efficient, and great care was taken to emphasize sustainability and the surrounding natural ecosystem.
Tommy Carr, the Director of Communication and Engagement at Ford House, said the project team was honored to be chosen and a part of the CAM Magazine Special Issue program. "We are incredibly honored. It was a long time coming getting these buildings in place, and the work the teams have done to ensure that they are sustainable and environmentally supportive has really made a huge difference in our work and the possibilities we have."
A Special Honor Goes to the CFRE
A "Special Recognition of Community and Environmental Impact" was also awarded to the project team of the Richard & Theresa Barch Center for Freshwater Research & Education (CFRE) in Sault Ste. Marie. The Magazine Advisory Committee unanimously voted to recognize the significant impact that this project has on the Great Lakes and the community in which it serves. Recognition was given to Lake Superior State University, Spence Brothers, SmithGroup, and the State of Michigan Department of Technology, Management, and Budget (DTMB), State Facilities Administration, Design and Construction Division.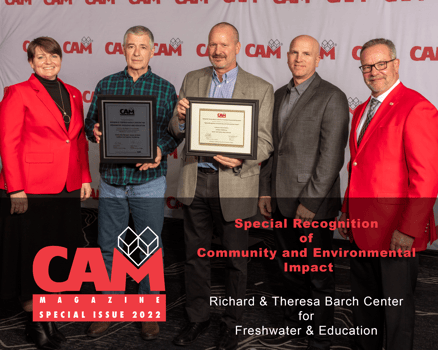 Other finalists for the 2022 awards include (in no particular order): Auto-Owners Company Expansion; Clinton-Macomb Library North Branch; McLaren Greater Lansing Replacement Hospital; The Hawk: Farmington Hills Community Center; Mercedes-Benz Financial Services USA HQ; Karmanos Cancer Institute at McLaren Greater Lansing; GM Factory ZERO; KLA Research & Education Center; DTE Blue Water Energy Center; and Livonia Medical Center. All of the honored projects were featured in CAM Magazine's October 2022 Special Issue.
CAM Magazine is currently accepting submissions for its Special Issue 2023. To be eligible, projects must be constructed or designed by a CAM member company and must have been completed – or reached substantial completion – between June 2022 and June 2023. Visit buildwithcam.com/cam-magazine for more information.
A New CAM Chair Takes the Stage
The Annual Meeting concluded with the inauguration of CAM's 2023 Chair of the Board. Chairman of the Board for 2022, Joshua Barney, Vice President of J.J. Barney Construction, inaugurated this year's new Chair, Tricia Ruby, President and CEO at Ruby+Associates, by placing on her the CAM red chairman's jacket. Ruby thanked Barney for his contribution, time, dedication, and activism and said that he has left her "really big shoes to fill."
Ruby went on to more formally address the CAM membership: "It is my distinct honor and privilege to serve as your Board Chair in this 138th year. It was meant to be. It is also an honor to only be the second woman to lead this work association in its long history, and perhaps a bigger honor to be the first engineering firm to hold this gavel. I'm honored to represent our class as we jointly serve CAM this year."
"In 1885, CAM was founded to serve the building and construction industry - to serve a need and fill a gap," explained Ruby. "And almost exactly 100 years later, in 1984, Ruby+Associates was founded by my father as a structural engineering firm to serve a need and fill a gap by providing services to the construction industry. We have been a proud member of CAM since our founding in 1984 because this is our industry and you are our people."
The new Chair of the CAM Board then gave an "assignment" to those present: "(1) Engage with each other. Relationships are everything. Take every opportunity to attend CAM events, outings, classes, or seminars, including the March 9th Future of Work conference; and (2) Explore all that CAM has to offer – after all, this is YOUR association."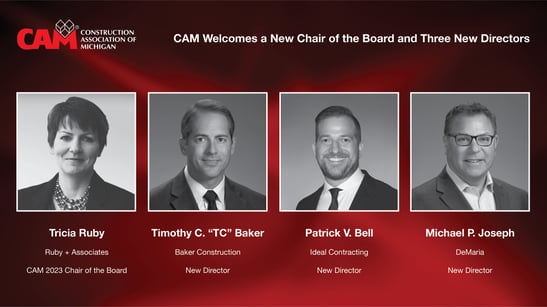 New Directors Are Introduced
Each year, three members retire from the Board and three new Directors - as voted on by the CAM membership - are introduced. The new Board members for 2023 are T.C. Baker, President of Baker Construction; Patrick Bell, Director of Steel Operations for Ideal Contracting; and Michael Joseph, V.P of Estimating and Pre-Construction at DeMaria.
Summing Up the Day
Kevin Koehler, President of the Construction Association of Michigan, was filled with positivity and optimism about the day. "The event was a great success. The morning Economic Forecast Breakfast, featuring Dr. Daniil Manaenkov, hosted over 200 people. Nearly 1,400 people attended the Great Lakes Design and Construction EXPO - and the sold-out CAM Annual Meeting and Magazine Awards program capped off a great day of industry networking."
The 2023 Great Lakes Design and Construction EXPO was hosted jointly by the Construction Association of Michigan and the Home Builder's Association of Southeastern Michigan. The event was generously sponsored by Lake Michigan Credit Union, CG Financial Services, International Building Products, MISS DIG 811, The Safety Source LLC, and Sherwin-Williams.
View the Photo Gallery from Great Lakes Design and Construction EXPO 2023 here.