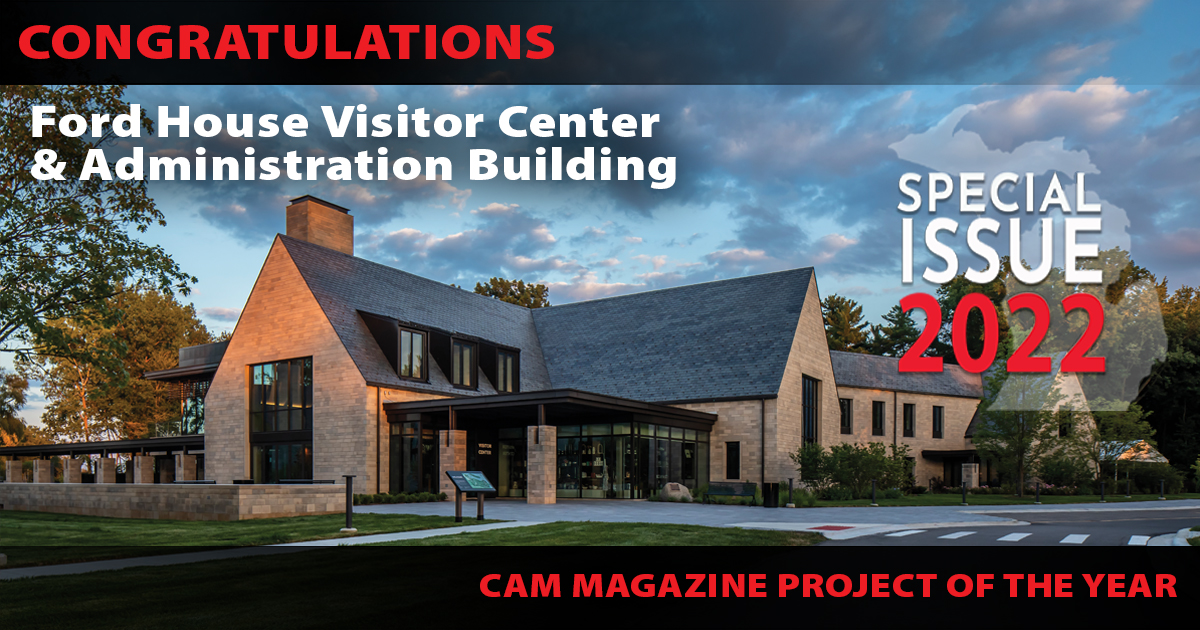 CAM Magazine Announces the 2022 Project of the Year
---
The Construction Association of Michigan (CAM) Announces Ford House Visitor Center and Administration Building Selected as
the

CAM Magazine

Project of the Year 2022

The Construction Association of Michigan (CAM) recently announced that the Ford House Visitor Center and Administration Building on the historic lakeside estate of the Edsel and Eleanor Ford House in Grosse Pointe Shores has been chosen as the 2022 CAM Magazine Project of the Year. The all-electric Administration Building is designed to achieve Net Zero Energy Certification, and both buildings are designed to LEED Gold. Congratulations to Construction Manager Frank Rewold & Sons (FRS); Architect, Engineer, and Sustainability Consultant SmithGroup; and Ford House. CAM's President Kevin Koehler made the announcement at the association's 137th Annual Meeting on Wednesday, February 15th, at the Suburban Collection Showplace in Novi.

Ford House's new Visitor Center and Administration Building are a contemporary translation of the Cotswold architectural style adopted by Edsel and Eleanor Ford for their own family home located down the lane from the new campus. With a lakefront restaurant, conference space, and exhibits telling the Ford family story, the new buildings offer visitors a memorable experience in a beautiful lakefront setting.

In honor of the original home, Ford House and the project team created two stone-clad buildings, both evocative of the Cotswold style but contemporary in its precision detailing. Rather than rusticated masonry, "our exterior limestone walls have a much more precise and machined appearance," said SmithGroup Principal and Project Designer Ben Grobe.

Built almost a century apart, the historic and contemporary share the same stellar design quality. "Aesthetically, the buildings are beautiful," said Ford House President and CEO Mark Heppner. "There was a commitment to quality that is important to the Ford family. They wanted to ensure that the same commitment to aesthetics and detail that Edsel and Eleanor had when they first built the house in 1928 was transferred to this project."

Together, Ford House, FRS, and SmithGroup created a place for the community to connect with the story of the Ford family. Visitors and organizations have been flocking to this new Visitor Center and Administration Building in increasing numbers since its grand opening in late spring 2021. Despite the COVID-19 pandemic, visitation to Ford House soared from an annual average of 40,000 to more than 100,000 people in its first year alone, according to Heppner. Ford House memberships have increased from 1,400 to 5,000 in a single year.

The credit belongs to Ford House, FRS, and SmithGroup, and the team of trade contractors who poured an incredible amount of thought and effort into the making of these beautifully detailed buildings. Having toured several impressive visitor centers in the project's early planning stages, Heppner can say with certainty, "there are beautiful visitor centers for historic house estates in the country, but I think our commitment to sustainability and stewardship, our success in being sympathetic to the original Ford house but still differentiating the contemporary buildings, and just the quality, intimacy, and sense of welcome leads me to say that there is nothing quite like this in the nation."
Tommy Karr, the Director of Communication and Engagement at Ford House, said the project team was truly honored to be chosen and a part of the project. "We are incredibly honored. It was a long time coming getting these buildings in place, and the work the teams have done to ensure that they are sustainable and environmentally supportive has really made a huge difference in our work and the possibilities we have."

The full feature article on the Ford House Visitor Center and Administration Building that appeared in the October 2022 Special Issue of CAM Magazine can be viewed at CAM Magazine - October 2023.

In 2022, CAM Magazine celebrated 26 years of publishing its annual Special Issue awards magazine. How it works: In early January, CAM puts out a call for its member companies to submit their best construction projects of the previous year. Twelve finalists are selected and featured in this issue, which comes out each October. The owners, general contractors, and architects from these projects are interviewed and sites toured prior to the writing of the feature articles. The Project of the Year is selected by the CAM Magazine Editorial Advisory Committee, association staff, and an online vote that is open to the public.

CAM is currently accepting submissions for its Special Issue 2023. To be eligible, projects must be constructed or designed by a CAM member company, and must have been completed – or reached substantial completion – between June 2022 and June 2023. The deadline for submitting projects is Friday, March 24, 2023. Advertising opportunities are available. Visit CAM Magazine for more information and to submit your project.


2022 Project of the Year:
Ford House Visitor Center and Administration Building (Grosse Pointe Shores)
Construction Manager: Frank Rewold & Sons
Architect, Engineer, and Sustainability Consultant: SmithGroup
Owner: Ford House
2022 Finalists (in no particular order):
Auto-Owners Insurance Group's South Campus Expansion (Lansing)
Construction Manager: The Christman Company, Lansing
Architect: Gensler, Detroit
Engineers: SmithGroup, Ruby + Associates, and Ziemnick Foster Engineering
Owner: Auto-Owners Insurance Group
Richard & Theresa Barch Center for Freshwater Research & Education (at Lake Superior State University in Sault Ste. Marie)
Construction Manager: Spence Brothers
Architect and Engineer: SmithGroup
Program Manager: The Design & Construction Division of the State of Michigan's Department of Technology, Management & Budget
Owner: Lake Superior State University
Clinton-Macomb Public Library, North Branch (Macomb Township)
Construction Manager: McCarthy & Smith
Architect: Quinn Evans Architects
Owner: Clinton-Macomb Public Library
McLaren Greater Lansing's Replacement Hospital (Lansing)
Contractor: Barton Malow/Christman, A Joint Venture
Architects: HED
Owner Representative: Kramer Management Group
Owner: McLaren Health Care
The Hawk: Farmington Hills Community Center (Farmington Hills)
Contractor: Colasanti Construction Services
Architect: Integrated Design Solutions
Owner Representative: Plante Moran Cresa
Owner: City of Farmington Hills
Mercedes-Benz Financial Services USA HQ (Farmington Hills)
Construction Manager: KIRCO MANIX
Architect/Designer: Gensler
Owner/Developer/Property Manager: Olympia Development of Michigan
Karmanos Cancer Institute at McLaren Greater Lansing (Lansing)
Construction Manager: Granger Construction
Architect/Structural Engineer/MEP Engineer: SmithGroup
Owner Representative: Kramer Management Group
Owner: McLaren Health Care
GM Factory ZERO (Detroit/Hamtramck)
Design-Builder: Walbridge
Design Partner: Ghafari Associates
Paint Shop Design-Builders: Gallagher-Kaiser Corp. and SSOE
Paint Shop Facility Renovation: Walbridge
Owner: General Motors
KLA Corporation's Second U.S. HQ and Research & Development Center (Ann Arbor)
Contractor: Barton Malow Builders
Architect: SmithGroup
Owner: KLA Corporation
DTE Blue Water Energy Center (East China Township)
Contractor: Commercial Contracting Corp.
Architect/Engineer: Kiewit Power Constructors
Owner: DTE Energy
Livonia Medical Center (Livonia)
Construction Manager: AUCH Construction
Architect: Lindhout Associates Architects
Owner: Schoolcraft College and Trinity Health
---

Quick Links