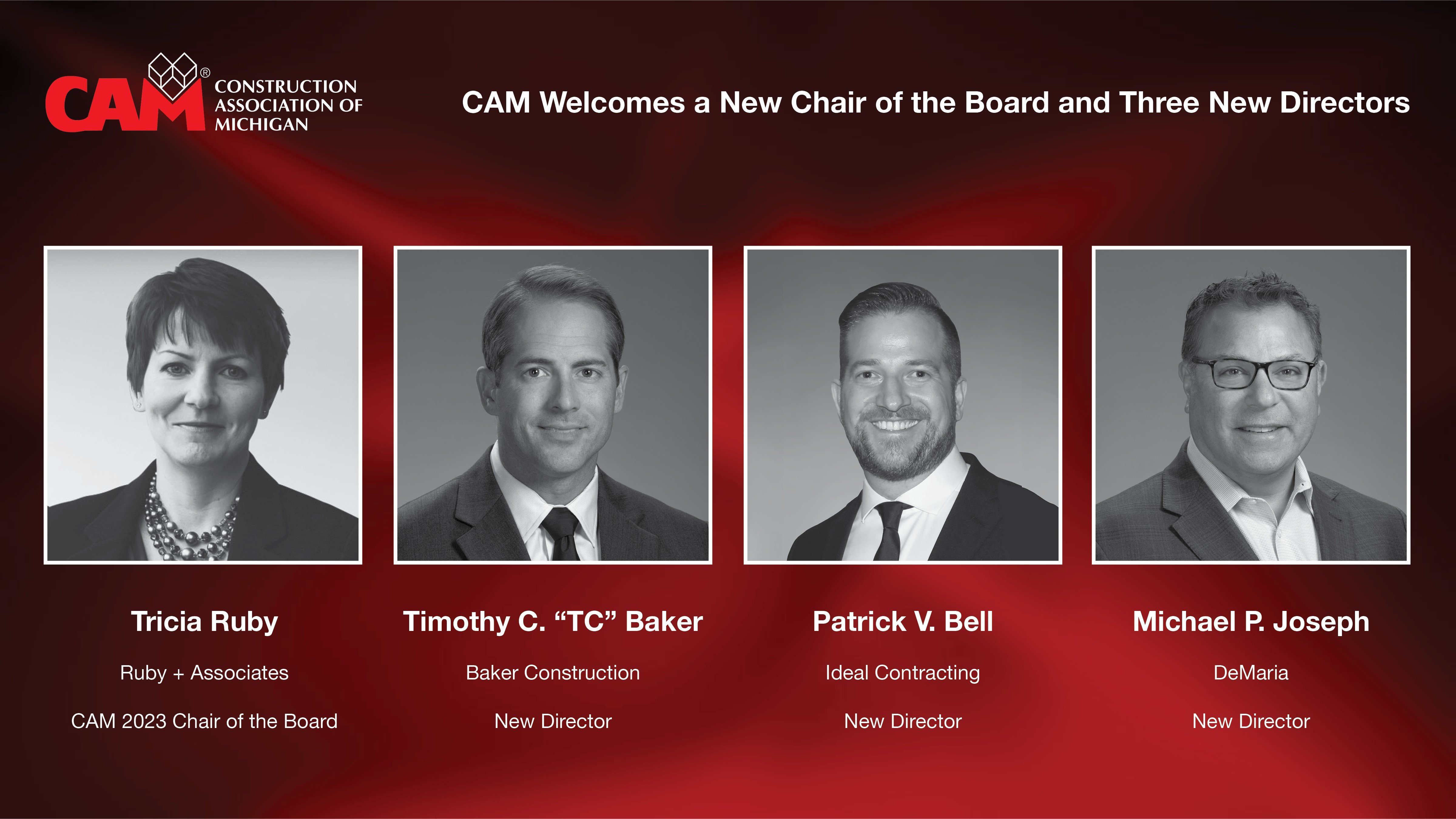 CAM Introduces New Board Members
CAM Inducts New Chair and Three New Board Members
At the 137th Annual Meeting of the Construction Association of Michigan (CAM), held February 15, 2023, at the Suburban Collection Showplace in Novi, the association's new officers and directors who will serve on the 2023 Board of Directors were installed.
Each year, three Directors retire from CAM's 12-member board, and three new Directors are elected by the CAM Membership.
CAM's new 2023 Chair is Tricia S. Ruby, President and CEO, Ruby + Associates, Bingham Farms.
The newly elected Directors for 2023 are: Timothy C. "TC" Baker, President, Baker Construction; Patrick V. Bell, Director of Steel Operations, Ideal Contracting; and Michael P. Joseph, Principal/Vice President of Estimating & Pre-Construction, DeMaria.
Newly promoted to CAM Vice Chairmen are Matthew D. Cramer, Dee Cramer, and Frank G. Jonna, Jonna Companies. CAM's incoming Treasurer is Todd A. Moilanen, Clovequip Properties. Other current members of the CAM Board of Directors are: Susan "Chrissy" Brown, International Building Products; Gerald C. Caratelli, Architectural Building Components, Inc.; Teresa K. Miller, Plante Moran Cresa; Jason R. Rewold, Frank Rewold & Sons; and Kelvin B. Squires, Center Line Electric, Inc.