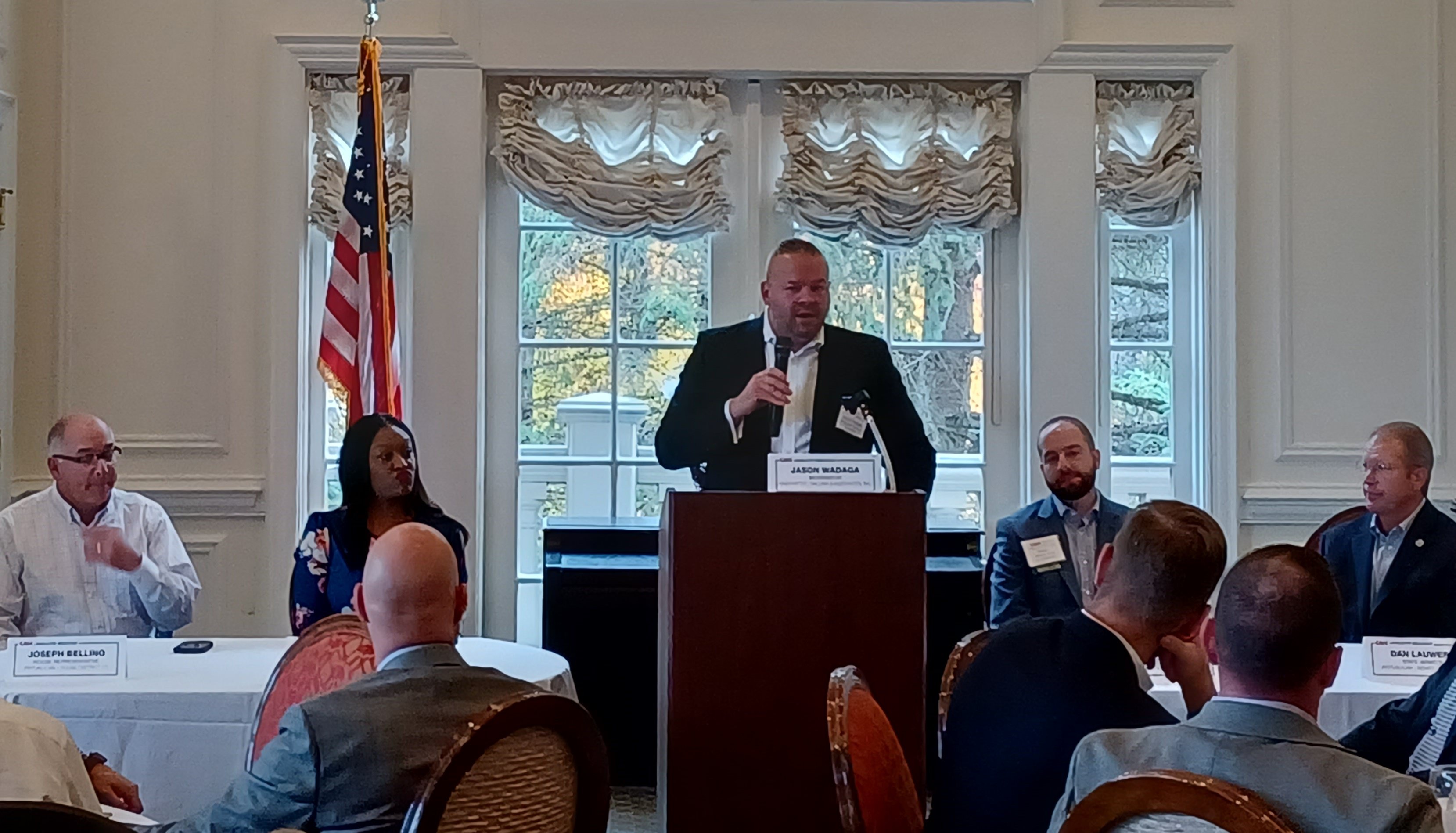 CAM's 7th Annual Legislative Breakfast
Budget Surplus and a Midterm Battle: A Recap of CAM's 7th Annual Legislative Breakfast
By DENNIS BURCK
CAM's 7th annual Legislative Breakfast, which took place at the Heathers Club of Bloomfield on Friday, October 14th, gave industry professionals an exclusive look at how legislators plan to support Michigan's construction industry and economy throughout 2023. Conversation revolved around a $6 billion state budget surplus, the status of Prompt Pay, and a contentious midterm election.
Despite political differences, both sides of the aisle agreed to support the construction industry in terms of education, infrastructure, and policy.
CAM lobbyist Jason Wadaga of Kindsvatter, Dalling & Associates moderated the event, welcoming state Sen. Dan Lauwers (R) of Brockway, Rep. Sarah Anthony (D) of Lansing, Sen. Jeremy Moss (D) of Southfield, and Rep. Joseph Bellino (R) of Monroe to the legislative panel.
The breakfast was generously sponsored at the event level by the Mechanical Contractors Association of Detroit; Operating Engineers Local 324; Michigan Regional Council of Carpenters and Millwrights; Laborers Local 1191; Laborers Local 1076; Michigan Building & Construction Trades Council; Bricklayers and Allied Craftworkers Local 2; Operative Plasterers' and Cement Masons' International Association Local 514; John E. Green Company; and Novara, Tesija, Catenacci, McDonald & Baas, PLLC.
Presenting sponsors included CAMComp; Sheet Metal Workers Local 80; National Electric Contractors Association - Southeastern Michigan Chapter; BeneSys, Inc.; BC Construction Group; Construction Federal Credit Union; Superior Materials; J.J. Barney Construction, Inc.; and Midwest Steel.
2023 Focus
The panel opened the discussion pointedly with how the legislators are working locally on state challenges and construction industry-related matters. Sen. Lauwers said that his focus into 2023 is to help lower the cost of living. According to the most recent U.S. Bureau of Labor Statistics' Consumer Price Index report, the 12-month inflation rate in Michigan is up 8.6 percent.
"I'm really concentrating right now on tax rollbacks," Sen. Lauwers said. "The state has more money than it's ever had, and a function of inflation is an increase in sales tax. I would like to see us try and get some of that money back to the people in the state. I think that will help insulate us from what's coming. We know that there are tougher times ahead. The sooner we can get more money back in people's pockets, the better off we will be when those hard times come."
Rep. Anthony said that she is focusing on training the workforce to fill jobs in the construction and automotive industry. "My background is in education, workforce development, and training. When you invest in people and get them the skills and certifications to feed their families, I think that is the best investment we can have," she said. "I'm from the Lansing area and we attracted the GM [Ultium Cells] Plant, which is going to create so many jobs. But the reality is that our workforce is not ready to fill many of those jobs."
GM made a $2.5 billion capital investment for the new construction of its Ultium Cells plant in Lansing. When complete, the project is expected to create approximately 1,700 jobs. "We need a lot of folks to be reskilled, upskilled, and retrained so our people won't be left behind when these investments happen," Rep. Anthony added.
Rep. Bellino said that it is important to keep things in perspective regarding the Michigan budget situation today as opposed to 15 years ago. "When I hear representatives and senators talking about the money we have in infrastructure and affordable housing, it all bundles into one happy thing — we have a little bit of money right now. But we have to do the correct things with it. We have to make sure we keep giving money to schools and keep giving money to infrastructure.
Sen. Moss said that his number-one priority is to address the middle-income housing shortage in the state. "We have programs for affordable housing and wealthy people can find housing, but we don't have that middle-income housing throughout the state," he said. "People say we have open jobs, move to Michigan and fill these in. But then when you try to find somewhere to live, you are outbid."
A bipartisan bill focused on the housing shortage moved through the committee that Sen. Moss sits on, and then it moved out of the Senate. It is now awaiting a hearing in the House. "We have a housing crisis in just about every region in the state, and we are trying to incentivize construction and homebuyers to meet together and bring about a more sustainable and attainable housing market through these tools," he said.
Prompt Pay
The Michigan Construction Payment Act (Senate Bill 1020) is awaiting a vote of the Economic Development and Small Business Development Committee in order to move onto the Senate floor. The bill most recently had a committee hearing in May. Sen. Lauwers is the lead sponsor of the bill with Sen. Curtis Hertel, Jr. (D) of East Lansing as the co-sponsor.
"The meeting went really well. You have the votes here. But here is the bad news: With the amount of days left in the legislature, it will be very hard to get this done this year," Sen. Lauwers said. "I'm afraid we are going to be looking at this next term, and it is just logistics with the number of days we have remaining."
He assured those in attendance that the good news is that this issue makes sense to legislators. "We just have to be persistent to get a good thing done."
Sen. Moss serves on the Economic Development and Small Business Development Committee overseeing the bill. "There has been bipartisan support in the past, and even getting it into a hearing has been a tremendous amount of progress on the bill," he explained to those in the audience, which were mostly leaders of large construction firms and representatives of the union trades. "If we can get this moving forward, get you paid for the dollars you earned and work you completed, it is a win-win for everybody."
Rep. Anthony is bewildered by the fact that a bill with bipartisan support takes this long to vote on. "I have seen really good legislation, pragmatic and bipartisan, never see the light of day or get to the governor's desk. Then I see very niche pet projects get fast-tracked in a matter of weeks, and it is frustrating to see," she said. "These are not socially divisive issues. This is common sense. It is not by accident that many of us get frustrated when we are in the Capital. Things like this can make an impact on the economy, and our workers tend to get caught up in the minutiae of today."
Rep. Bellino had one word to say about Rep. Anthony's response to prompt pay: "Ditto."
Surplus Spending
With $4 billion in the General Fund and $2 billion in the School Aid Fund, Michigan's $6 billion budget surplus is expected to be up 8.5 percent for the 2022 fiscal year. Legislators weighed in on what to do with the extra cash.
"I don't want to spend it all," Rep. Bellino said. "I think we should have 5 billion in the bank for when the recession comes. There is going to be a little slow down here." He expressed that existing public projects with funding already in the pipeline will keep people working. "We saw what happened 15 years ago when we were cutting budgets 25 percent every 6 months and couldn't stay solvent. I don't want that to happen again. We are going to need to shore up the education budget, and we are going to need to shore up the DHHS [Michigan Department of Health and Human Services] budget."
Rep. Anthony had a different opinion. "We should spend it," she said. "One of the hardest things I do as a policy maker is looking at this influx of money and workers ask us what the plan is. "We need to invest in things that are transformative. When the Biden administration was talking about infrastructure, that meant roads and bridges and broadband — with those things, we are behind the power curve."
But the definition of infrastructure with the Biden administration broadened to human infrastructure as well, she explained. "This is a part of the infrastructure we miss when we are so focused on the brick-and-mortar. Focusing on the quality of life for people is also important, with things like child care and end-of-life care."
She was clear that spending on human infrastructure also has a direct effect on the Michigan economy. "When we see companies and organizations thinking about moving to Michigan, it is not just about the incentives they will receive. When I talk to CEOs and am in meetings with organizations and ask them why they aren't investing in Michigan, they ask 'Why are your schools failing kids?' and 'Why can't we find workers to fill these jobs?' All of the pieces that come with the quality of life in Michigan should be addressed."
Midterms
At the time of this discussion, the 2022 Michigan Midterm Election was just around the corner, with a contested battle shaping up for control of Michigan's Senate. Michigan Republicans have maintained the majority in the Senate for the last 40 years.
"I wake up in the morning, say my prayers, thank god for sobriety, and take care of what Joe Bellino's got to take care of," Rep. Bellino said. "I hear rumors that the House will go Republican … but with the Senate, who knows what will happen?" He added, "I don't think Tudor is going to win, but we are still a month out. My mental state is you're running unopposed or five points down. It's all about doing the work, putting the signs up, meeting people, and doing what you got to do."
Sen. Moss, the co-chair for the Senate Democrats' campaign, shared a different opinion. "We are going to take the majority in the Michigan Senate for the first time in 40 years. Senate Republicans have had the veto power over anything that has been held up for the last 40 years. If there is something you want moved or changed, vote for a Senate Democrat."
Rep. Anthony said that she doesn't have a crystal ball, but sees the governor's race likely decided on Whitmer. "Her values and record as governor over these past couple of tough years have earned the trust of voters within the state."
Sen. Lauwers said that he doesn't like to get into the politics of who will win and what will happen. "One of the greatest blessings about doing this job is that if you don't care if you are going to get reelected or not, you tend to be a better legislator. It's not that I don't care. I think with most of us, people tend to think that the idea of public service and civil service is gone, and let me tell you, it isn't. It is one of the greatest honors to serve as a state Senator, to work with and solve the problems of the people. Let the best person win."
Jason Wadaga
Vice President Governmental Affairs
Kindsvatter Dalling & Associates
Jason serves as KDA's lead lobbyist. He can typically be found in legislative meetings, committee hearings and at legislative session representing KDA's lobby clients. He also serves as the Executive Director for three of KDA's association management clients, including the Construction Association of Michigan.
His career includes extensive experience in politics and the legislature. He started his political career as a sophomore at Northern Michigan University working on a variety of campaigns that brought him to Lansing. He spent nine years in the Michigan Legislature working in a variety of roles including serving as the Chief-of-Staff to State Senator Rick Jones before joining KDA. Born and raised in Michigan's Upper Peninsula, Jason lives in East Lansing with his wife Kimberly and sons Nolan and Reid.