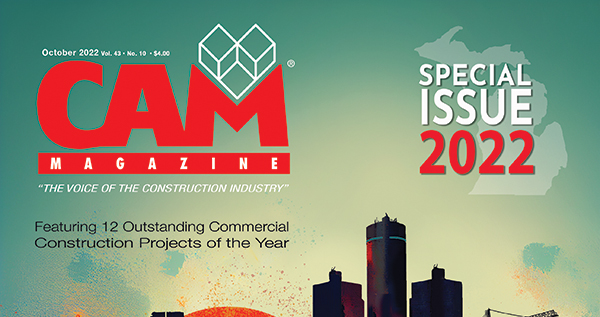 CAM Magazine Special Issue 2022 Is Ready to View
October 19, 2022 - Bloomfield Hills, MI – CAM Magazine Releases Its October "Special Issue," Featuring 12 Outstanding Construction Projects in the State of Michigan
The Construction Association of Michigan is excited to announce that its CAM Magazine October Special Issue is ready to view! This 128-page, full-color issue of the magazine features 12 outstanding construction projects in the state of Michigan as submitted by CAM member companies. Projects featured were completed or nearly completed between June 2021 and June 2022.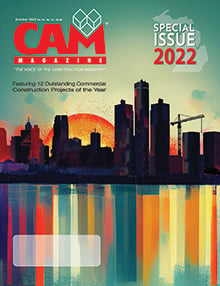 This year's finalists include:
Auto-Owners Insurance Group's South Campus Expansion
Owner: Auto-Owners Insurance Group, Lansing
Architect: Gensler, Detroit
Construction Manager: The Christman Company, Lansing
MEP Engineer: SmithGroup, Lansing
Structural Engineer: Ruby + Associates, Bingham Farms
Civil Engineer: Ziemnick Foster Engineering, Grand Ledge
Commissioning Agent: Diekema Hamann Architecture & Engineering, Kalamazoo

Richard and Theresa Barch Center for Freshwater Research and Education
Owner: Lake Superior State University, Sault Ste. Marie
Architect and Engineer: SmithGroup, Detroit
Construction Manager: Spence Brothers, Traverse City
Program Manager: State of Michigan Department of Technology, Management, and Budget (DTMB), State Facilities Administration, Design and Construction Division

Clinton-Macomb Library North Branch
Owner: Clinton-Macomb Public Library, Macomb Twp.
Architect: Quinn Evans Architects, Detroit
Landscape Architect and Civil Engineers: Beckett & Raeder, Inc., Ann Arbor
Structural Engineer: SDI Structures, Ann Arbor
Mechanical and Electrical Engineers: Peter Basso Associates, Inc., Troy
Contractor: McCarthy & Smith, Inc., Farmington Hills

McLaren Greater Lansing Replacement Hospital
Owner: McLaren Greater Lansing, Lansing
Architect: HED, Southfield, and Gresham Smith, Chicago, IL
Contractor: Barton Malow/Christman, A Joint Venture
Civil Engineer: PEA Group, Auburn Hills
Structural/MEP Engineer: HED, Southfield

Ford House Visitor Center and Administration Building
Owner: Ford House, Grosse Pointe Shores
Architect, Landscape Architect, Structural Engineering, MEP Engineering, Interior Designer, Lighting Designer, Facade Consultant, Sustainability Consultant: SmithGroup, Detroit
Construction Manager: Frank Rewold & Sons (FRS), Rochester

The Hawk: Farmington Hills Community Center
Owner: City of Farmington Hills
Architect: Integrated Design Solutions, Troy
Landscape Architect: Grissim Metz Andriese, Plymouth
Aquatics Design Consultant: Counsilman-Hunsaker, St. Louis, MO
Civil Engineering: Spalding DeDecker, Rochester Hills
Structural Engineer: Desai/Nasr Consulting Engineers, West Bloomfield
Contractor: Colasanti Construction Services, Inc., Detroit

Mercedes-Benz Financial Services USA HQ
Owner/Developer/Property Manager: Olympia Development of Michigan, Farmington Hills
Architect/Designer: Gensler, Detroit
Contractor/Construction Manager: KIRCO MANIX, Troy

Karmanos Cancer Institute at McLaren Greater Lansing
Owner: McLaren Health Care, Grand Blanc
Owner's Representative: Kramer Management Group, Lansing
Construction Manager: Granger Construction, Lansing
Architect/Structural Engineer/MEP Engineer: SmithGroup, Ann Arbor
Civil Engineer: PEA Group, Lansing
Interior Design: Pace Howe Design, Lansing

General Motors Factory ZERO
Owner: General Motors, Detroit
Design-Builder: Walbridge, Detroit
Design Partner: Ghafari Associates LLC, Dearborn
Paint Shop Design-Builder: Gallagher-Kaiser Corp., Troy
Paint Shop Design Partner: SSOE, Toledo, OH
Paint Shop Design Partner: Gala & Associates, Inc., Beverly Hills
Paint Shop Facility Renovation: Walbridge, Detroit

KLA Corp. Second U.S. Headquarters and Research & Development Center
Owner: KLA Corporation, Ann Arbor
Architect: SmithGroup, Ann Arbor
Contractor: Barton Malow Builders, Southfield

DTE Blue Water Energy Center
Owner: DTE Energy, Detroit
Architect/Engineer: Kiewit Power Constructors, Omaha, NE
Contractor: Commercial Contracting Corp., Auburn Hills

Livonia Medical Center
Owner: Schoolcraft College and Trinity Health, Livonia
Architect: Lindhout Associates Architects, Brighton
Contractor: AUCH Construction, Pontiac
Civil/Structural Engineer: Zeimet Wozniak & Associate, New Hudson
MEP Engineer: IMEG, Ann Arbor
Full contractor lists for these projects can be found in the 2022 CAM Magazine Special Issue.
Interested in hearing more about this celebrated publication? Each year, CAM puts out a call for its member companies to submit their best projects of the previous year – 12 finalists are selected and featured in the magazine. The owners, general contractors, and architects from these projects are interviewed and most sites toured prior to the writing of the feature articles. From the 12 finalists, the Project of the Year is selected by the CAM Magazine Editorial Advisory Committee, CAM staff, and an online vote.
CAM is already planning for next year and is accepting submissions for its Special Issue 2023. To be eligible, projects must be constructed or designed by a CAM member company, and must have been completed – or reached substantial completion – between June 2022 and June 2023. The deadline for submitting Special Issue 2023 projects is Friday, March 24, 2023. Advertising opportunities are available. CLICK HERE for more information and to submit your project. Let CAM share the story of your beautiful, challenging, compelling, and noteworthy buildings constructed over the course of the prior year.
CAM Magazine, established in 1980, is the official publication of the Construction Association of Michigan (CAM). It is a monthly, full-color, glossy magazine devoted to the individuals and companies who comprise the commercial construction industry in Michigan. CAM is the oldest and largest regional construction association in the United States. Founded in 1885, CAM is a not-for-profit organization based in Bloomfield Hills, MI, consisting of approximately 1,800 member companies, including general contractors, subcontractors, equipment and material suppliers, architects, engineers, and service firms. Visit www.BuildwithCAM.com for more information.