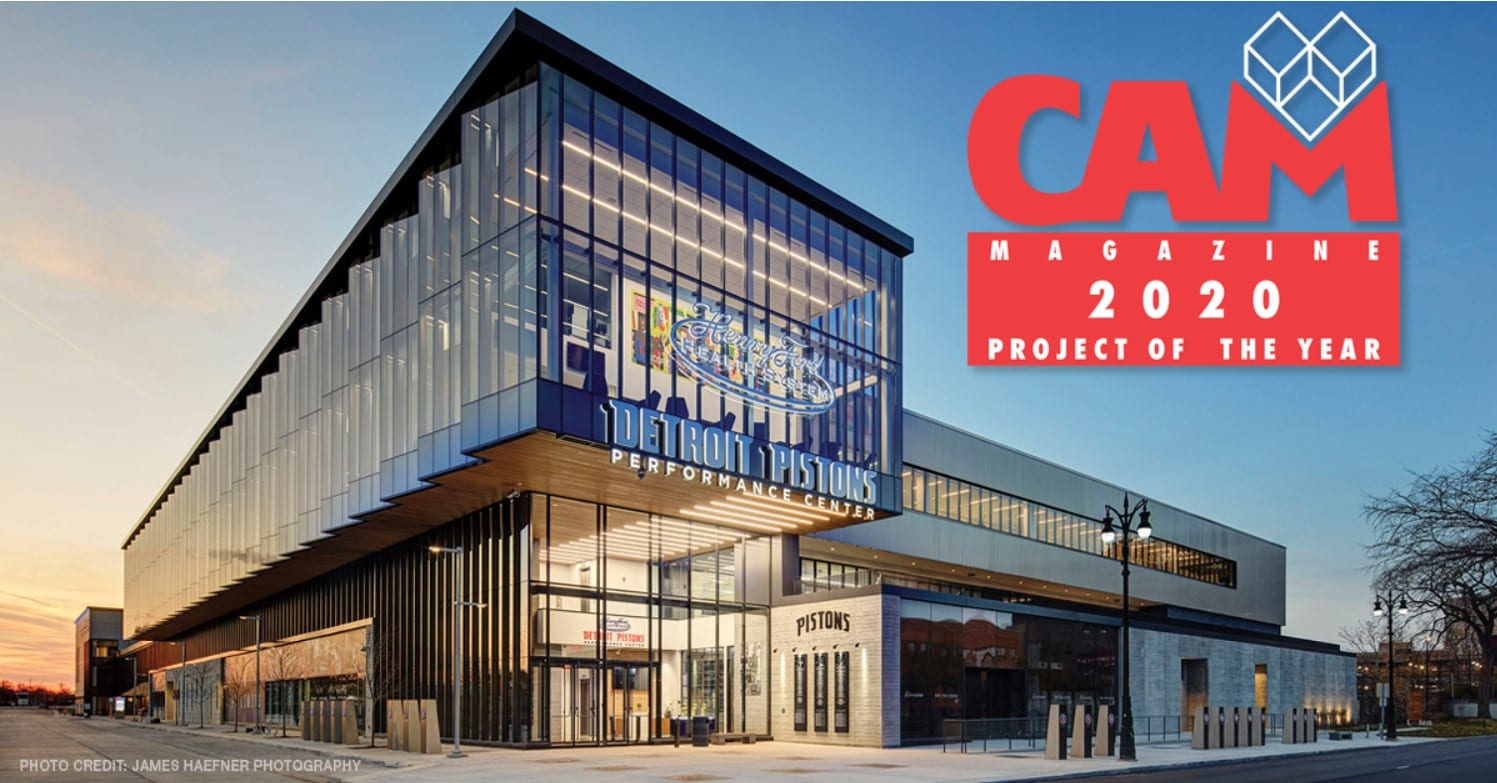 CAM Magazine Announces 2020 Project of the Year
The Henry Ford Detroit Pistons Performance Center Named CAM Magazine Project of the Year 2020
The Construction Association of Michigan is excited to announce that The Henry Ford Detroit Pistons Performance Center has been selected as the 2020 CAM Magazine Project of the Year. Congratulations to the Detroit Pistons, the Henry Ford Health System, ROSSETTI, Hobbs + Black Architects, and the Christman-Brinker joint venture formed of The Christman Company and the L.S. Brinker Company.
The premier facility is comprised of three interconnected buildings: the Pistons Performance Center houses one of the biggest and the best training facility in the NBA, along with the franchise's corporate headquarters, making it the first in the NBA with the entire organization under one roof; Henry Ford Health System's William Clay Ford Center for Athletic Medicine that serves the Pistons, as well as athletes of all levels and serious fitness buffs, with second-to-none sports medicine and technologies; and a parking garage nestled in between the two structures.
The pages of CAM Magazine's January 2021 issue tell the success story of this striking facility with an inclusive, community-minded mission dedicated not only to welcoming the public into the Henry Ford Detroit Pistons Performance Center via retail spaces and a soon-to-be-developed fitness space, but also inviting smaller Detroit contractors to be part of its own bustling jobsite during construction via a mentoring protégé program. The series of articles not only covers the project's construction details but also provides the perspective of the all-star team of owners, designers and contractors whose vision and talents brought this building to life and added new vibrancy to an area of Detroit between New Center and Wayne State University.
"The Construction Association of Michigan is proud to celebrate this state-of-the-art center built by CAM member companies," said the association's president, Kevin Koehler. "I applaud The Christman Company and L.S. Brinker for successfully collaborating to develop this impressive facility for the Henry Ford Health System and Detroit Pistons organization. The project is a win-win-win, for the project teams involved, for the owners, and for the city of Detroit."
In 2021, CAM Magazine will celebrate 25 years of publishing its annual awards issue called the Special Issue. Early each year, CAM puts out a call for its member companies to submit their best construction projects of the previous year. Twelve finalists are selected and featured in this issue, which comes out each October. The owners, general contractors, and architects from these projects are interviewed and sites toured prior to the writing of the feature articles. The Project of the Year is selected by the CAM Magazine Editorial Advisory Committee, magazine staff, and an online vote.
CAM is currently accepting submissions for its Special Issue 2021. To be eligible, projects must be constructed or designed by a CAM member company, and must have been completed – or reached substantial completion – between June 2020 and June 2021. The deadline for submitting Special Issue 2020 projects is Friday, March 12, 2021. Advertising opportunities are available. CLICK HERE for more information and to submit your project.
The list of all 12 finalists and their project teams from CAM Magazine Special Issue 2020:
2020 PROJECT OF THE YEAR:
The Henry Ford Detroit Pistons Performance Center (Detroit)
Owner/Developer: The Henry Ford Health System and Detroit Pistons
Construction Manager: Christman/Brinker, a Joint Venture, Detroit
Architects: ROSSETTI, Detroit, and Hobbs+Black Architects, Ann Arbor
2020 FINALISTS (in no particular order):
MSU Edward J. Minskoff Pavilion (East Lansing)
Contractor: Clark Construction Co.
Architect: LMN Architects & Fishbeck
University of Michigan – Michigan Union Renovation (Ann Arbor)
Contractor: Walbridge
Architect: Integrated Design Solutions, Hartman-Cox Architects, Workshop Architects
Ascension Macomb-Oakland Hospital Macomb Campus Bed Tower Vertical Expansion (Warren)
Contractor: AUCH Construction
Architect: HKS Architects
McLaren Northwest Addition-Wayne & Joan Webber Emergency Trauma Center (Mount Clemens)
Contractor: Roncelli, Inc.
Architect: AECOM
Theodore Levin U.S. Courthouse Alteration (Detroit)
Contractor: The Christman Co.
Architect: EYP Architecture and Engineering
Christian Financial Credit Union Headquarters (Sterling Heights)
Contractor: Thompson-Phelan Group, Inc.
Architect: Barber-McCalpin Associates
FRS Headquarters (Rochester)
Contractor: Frank Rewold & Sons Inc.
Architect: Auger Klein Aller Architects
LinkedIn Detroit Regional Headquarters (Detroit)
Contractor: L.S. Brinker
Architect: SmithGroup
Veoneer North American Engineering Center (Southfield)
Contractor: Jonna Construction
Architect: Harley Ellis Devereaux
Innovation Garage (Ann Arbor)
Contractor: Barton Malow Co.
Architect: Integrated Design Solutions
Robert C. Valade Park, Atwater Beach Site (Detroit)
Contractor: Commercial Contracting Corp.
Architect: Hannah Neumann/Smith
CAM Magazine, established in 1980, is the official publication of the Construction Association of Michigan (CAM). It is a monthly, full-color, glossy magazine devoted to the individuals and companies who comprise the commercial construction industry in Michigan. CAM is the oldest and largest regional construction association in the United States. Founded in 1885, CAM is a not-for-profit organization is based in Bloomfield Hills, MI, consisting of over 2,000 members, including general contractors, subcontractors, equipment and material suppliers, architects, engineers and service firms.