CAM Installs New Board
CAM Inducts New Chairman and Three New Board Members
At the 134th Annual Meeting of the Construction Association of Michigan, held February 12, 2020, at the Suburban Showplace Collection in Novi, the association's new officers and directors who will serve on the 2020 Board of Directors were installed.
Each year, three Directors retire from CAM's 12-member board, and three new Directors are elected by the CAM Membership.
Newly promoted to CAM Vice Chairmen are: Stephen J. Frantz, Motor City Electric Company, and Paul A. Stachowiak, Integrated Design Solutions, LLC. CAM's incoming Treasurer is Joshua T. Barney, J.J. Barney Construction.
Other current members of the CAM Board of Directors are: Jeffrey A. Chandler, VTC Insurance Group; Matthew D. Cramer, Dee Cramer, Inc.; Michael J. Green, John E. Green Company; Frank G. Jonna, Jonna Companies; and Tricia S. Ruby, Ruby + Associates.
CAM's new 2020 Chairman of the Board is Samuel J. Ruegsegger III , Project Executive, The Christman Company.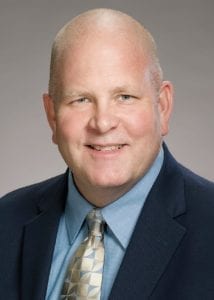 The newly elected 2020 Directors are: Gerald C. Caratelli, VP/Managing Partner, Architectural Building Components, Inc., Ferndale; Teresa K. Miller , Program Manager, Walsh Construction, Detroit; and Todd A. Moilanen , President/CEO, Cloverleaf Equipment Company, Oak Park.
Click here for the full Board of Directors.