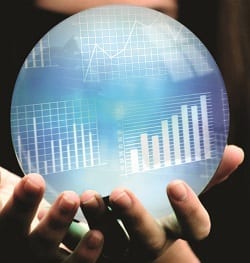 Mid Year Forecast Recap
June 13, 2019 – At today's Mid Year Forecast and State of the Industry Breakfast, co-hosted by Construction Association of Michigan and Southeastern Michigan Home Builders Association, 250+ attendees were presented with information concerning the national economy and Michigan's economic outlook.
During the first presentation by Gabriel Ehrlich, Director of Research Seminar in Quantitative Economics (RSQE) and Assistant Research Scientist with experience in the Financial Analysis Division at the Congressional Budget Office (CBO), statistics indicated that by July 2019, the national economy will set a record for longest sustained period of growth. To view all of the charts and graphs presented by Gabe, click here.
The second half was presented by returning speaker Eric Bussis, the Michigan Chief Economist and the Director of the Office of Revenue and Tax Analysis at the Michigan Department of Treasury. Eric's remarks focused on Michigan and demonstrated that Michigan has outperformed the US and Great Lakes States during the economic recovery. To view Eric's presentation, click here.
To view photos from the event, click here.
Special thanks to our sponsors:
Platinum
Construction Federal Credit Union
Michigan Talent Investment Agency
Doeren Mayhew
Gold
Progessive Plumbing Supply
Testing Engineers & Consultants
Rehmann
Progressive Sweeping Contractors
CMIT Solutions
Surework Construction
PlanGrid
Plante Moran
Operating Engineers Local 324 LMEC & JATF
Pella Window & Door