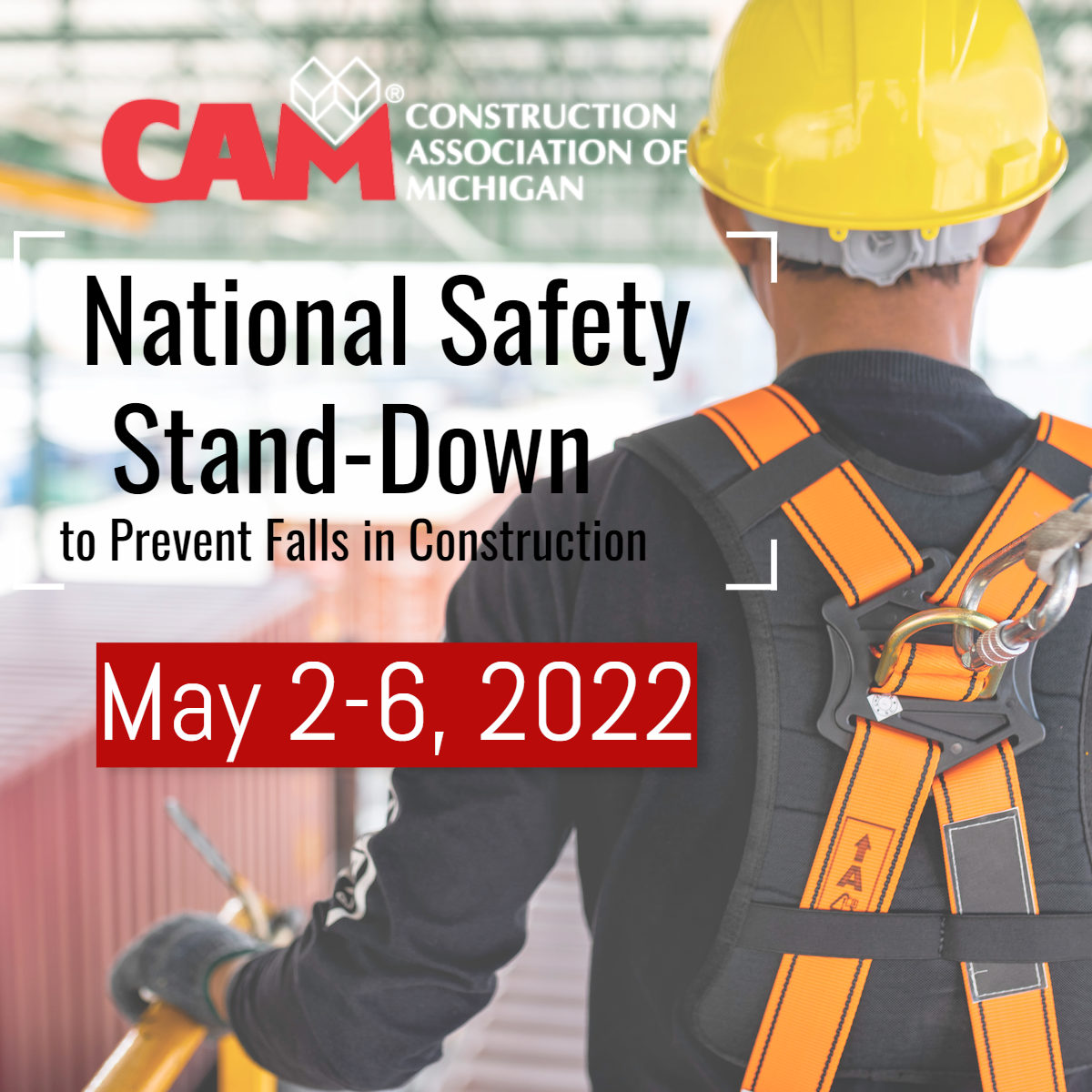 National Safety Stand-Down to Prevent Falls
The Occupational Safety and Health Administration (OSHA) has declared the week of May 2-6, 2022, as the National Safety Stand-Down to Prevent Falls in Construction. CAM encourages all employers to participate.
Fatalities caused by falls from elevation continue to be a leading cause of death for construction employees, accounting for 351 of the 1,008 construction fatalities recorded nationally in 2020. In Michigan, 9 of the 75 recorded fatalities were attributed to fall from elevation or fall from the same level. These deaths were preventable. The purpose of the National Safety Stand-Down is to bring fall hazard awareness across the country in an effort to stop fall fatalities and injuries.
What is a Safety Stand-Down?
A Stand-Down is a voluntary event for employers to take a moment to speak to their employees about workplace safety. It can be as simple as a 15-minute Toolbox Talk, a full fall protection training, or comprised of various events throughout the week. It is a terrific opportunity to discuss a company's safety goals, policies, and to reaffirm a culture that recognizes safety as a core value.
Suggestions for Participation
The Construction Association of Michigan is proud of our Alliance Agreement with the Michigan Occupational Safety and Health Administration (MIOSHA). As part of our commitment to safety, all CAM members are invited to contact CAMSafety and request MIOSHA or CAM participation in their Stand-Down. We will coordinate with MIOSHA to make sure they are represented at a CAM member event.
If your field personnel are due for training, contact CAMSafety today - we can assist with scheduling, selecting an instructor, and facilitating a 4 hour or 8 hour training.
Other ideas include:
Invite an equipment supplier to provide fall protection equipment inspection

Take a moment to inspect ladders

Host lunch for field personnel and review workplace safety policies

Hold a Toolbox Talk to address a specific fall hazard present on the jobsite
Once you've made a plan to participate, be sure to apply for a Certificate of Participation from OSHA.
CAM Resources
Quick Links