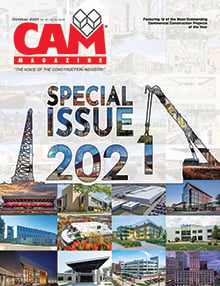 CAM Magazine Special Issue 2021 Is Ready to View
CAM Magazine Has Released Its October "Special Issue," Featuring 12 Outstanding Construction Projects in the State of Michigan
October 20, 2021 - The Construction Association of Michigan is excited to announce that its
CAM Magazine
October Special Issue is ready to view -
click here
. This 132-page, full-color issue of the magazine features 12 outstanding construction projects in the state of Michigan as submitted by CAM member companies. Projects featured were completed or nearly completed between June 2019 and June 2020. This year's finalists include:

CMU Chippewa Champions Center, Mt. Pleasant
Owner: Central Michigan University, Mount Pleasant
Construction Manager: Granger Construction, Lansing
Architects: GMB Architecture + Engineering, Grand Rapids; and Populous, locations worldwide
Engineer: GMB Architecture + Engineering, Grand Rapids
MSU STEM Teaching and Learning Facility, East Lansing
Owner: Michigan State University, East Lansing
Architects/Engineers: Ellenzweig, Boston, Massachusetts; Integrated Design Solutions, Troy
Contractor: Granger Construction Company, Lansing
Henry Ford Brigitte Harris Cancer Pavilion, Detroit
Owner: Henry Ford Health System, Detroit
Architect & Engineer: SmithGroup, Detroit
Construction Manager: Turner Construction Company, Detroit
Associate Construction Manager: KEO & Associates, Detroit
Skywalk, Architectural: SDG Associates, LLC, Detroit
Parking, Architectural: Rich & Associates, Inc., Southfield
The Press / 321, Detroit
Owner/Developer: Bedrock Detroit, Detroit
Architect and Historic Consultant: Kraemer Design Group, LLC, Detroit
Construction Manager: Turner Construction Company, Detroit
Engineers: Peter Basso Associates, Troy; Desai/Nasr (now known as IMEG), West Bloomfield Twp.
MEP Engineer: Integrated Design Solutions, Troy
Civil Engineer: Giffels Webster, Detroit
UM-Flint William R. Murchie Science Building Expansion, Flint
Owner: University of Michigan, Flint
Architect: HED, Southfield
Contractor: Commercial Contracting Corp., Auburn Hills
ZEISS Michigan Quality Excellence Center, Southfield
Owner: ZEISS Industrial Quality Solutions, Maple Grove, Minnesota
Architect, Interior and FF&E Design, Civil Engineer, MEP Engineer, Structural Engineer, Landscape Architect: SmithGroup, Detroit
Construction Manager: The Christman Company, Lansing
NMC Timothy J. Nelson Innovation Center, Traverse City
Owner: Northwestern Michigan College, Traverse City
Construction Manager: Spence Brothers, Traverse City
Architect: Cornerstone Architects, Traverse City
Engineer: Nealis Engineering, Traverse City
Civil Engineer: Gosling Czubak Engineering Sciences, Traverse City
Structural Engineer: Trison Engineering, Traverse City
Beaumont Hospital-Farmington Hills Master Plan, Farmington Hills
Owner: Beaumont Health / Botsford Health Care
Program Manager: Plante Moran Cresa, Southfield
Architect: HKS Architects, Dallas, Texas
Construction Manager: Barton Malow Company, Southfield; AIMS, Detroit
Engineers: AECOM, Los Angeles; Storey Engineering, Macomb; Desai Nasr, West Bloomfield Twp.
United Wholesale Mortgage Training Center Expansion, Pontiac
Owner: United Wholesale Mortgage, Pontiac
Architect: Von Staden Architects, Royal Oak
Contractor: The Dailey Company, Lake Orion
Civil/Structural Engineer: Ruby + Associates, Bingham Farms
MEP Engineer: MA Engineering Mechanical Electrical, Birmingham
Stellantis Mack Avenue and Warren Truck Assembly Paint Shops, Detroit
Owner: Stellantis
Paint Equipment Supplier and Overall GC: Giffin, Inc., Auburn Hills
Construction Manager: Barton Malow Company, Southfield
Architects: Ghafari Associates, LLC, Dearborn
Engineer: Ghafari Associates, LLC, Dearborn
Michigan Veteran Homes, Chesterfield Twp. and Grand Rapids
Owner: Michigan Veteran Homes
Architect: TowerPinkster, Kalamazoo, SFCS, Roanoke, Virginia
Construction Manager: The Christman Company, Lansing
Berkshire eSupply HQ and Fulfillment Center, Novi
Owner: Berkshire eSupply
Project Designer: Moshe Appelbaum, Architect. In conjunction with Albert Kahn Associates, Inc. - Associate Architect, Engineer, Landscape Architect, Interior Designer
Construction Manager: Oliver / Hatcher Construction, Novi
Civil Engineer: The Mannik & Smith Group, Inc.
Full contractor lists for these projects can be found in the 2021 CAM Magazine Special Issue.
Interested in hearing more about this celebrated publication? Each year, CAM puts out a call for its member companies to submit their best projects of the previous year – 12 finalists are selected and featured in the magazine. The owners, general contractors, and architects from these projects are interviewed and sites toured prior to the writing of the feature articles. From the 12 finalists, the Project of the Year is selected by the CAM Magazine Editorial Advisory Committee, CAM staff, and an online vote.
CAM is already planning for next year and is accepting submissions for its Special Issue 2022. To be eligible, projects must be constructed or designed by a CAM member company, and must have been completed – or reached substantial completion – between June 2021 and June 2022. The deadline for submitting Special Issue 2022 projects is Friday, March 11, 2022. Advertising opportunities are available.
Click here
for more information and to submit your project. Let CAM share the story of your beautiful, challenging, compelling, and noteworthy buildings constructed over the course of the prior year.
To view a video of the awards presentations for last year's projects as published in
CAM Magazine's
Special Issue 2020,
click here
.
CAM Magazine, established in 1980, is the official publication of the Construction Association of Michigan (CAM). It is a monthly, full-color, glossy magazine devoted to the individuals and companies who comprise the commercial construction industry in Michigan. CAM is the oldest and largest regional construction association in the United States. Founded in 1885, CAM is a not-for-profit organization based in Bloomfield Hills, MI, consisting of over 2,000 members, including general contractors, subcontractors, equipment and material suppliers, architects, engineers and service firms.