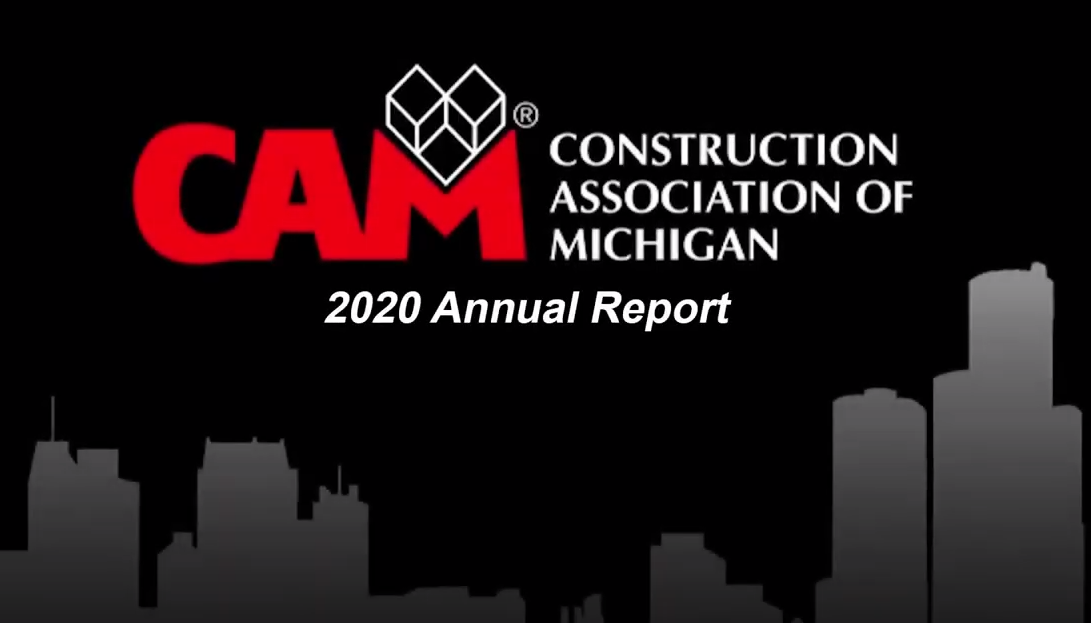 Construction Association of Michigan's 135th Annual Report
Video Highlights
Read the published Annual Report in the April edition of CAM Magazine.
Presented Virtually for 2021
April 6, 2021 – For the first time in its history, the Construction Association of Michigan (CAM) presents its Annual Meeting virtually. Traditionally, CAM's Annual Meeting takes place during its trade show each February. This year, the trade show, the Great Lakes Design & Construction EXPO, has been moved to later in the year due to COVID-19 restrictions. It will be held along with the Mid-Year Economic Event and CAM Magazine Special Issue Awards at the Suburban Collection Showplace in Novi on June 9th.
CAM's 135th Annual Meeting video kicks off with inspiring words by President of CAM, Kevin Koehler: "There's something special about the pride, the skill, the passion it takes to build something great. The Construction Association of Michigan, CAM, understands that passion and provides contractors with the resources they need."
Viewers are introduced to Sam Ruegsegger, Project Executive of The Christman Company and CAM's current Chairman of the Board. Mr. Ruegsegger welcomes viewers and introduces the 2020-21 Board of Directors. Given the challenges posed by the COVID-19 pandemic, he provides encouraging words of support moving forward: "We are all in this together, and we must stay resilient and focused."
Details are presented on how CAM, as well as its various departments, performed in 2020, including the work done toward informing CAM's members on the changing guidelines related to the pandemic and the efforts put forth toward getting the construction industry re-opened safely. Unique this year, the meeting also highlights 2020 success stories of many of its member companies.
In closing, Mr. Ruegsegger remarks: "I would encourage all of you to take advantage of all that CAM has to offer. Join us at an event, send some of your leadership team to our Advanced Leadership Academy, or any of CAM's education and safety programs, download our mobile buyers guide app, and check out what projects are bidding in the plan room. Get engaged! You have my word, CAM will continue to serve its membership to the best of its ability: to Advocate, Legislate, and Educate."
Learn more about Great Lakes Design and Construction EXPO, which also includes the CAM Magazine Special Issue Awards Breakfast, and the Mid-Year Economic Forecast and State of the Industry Luncheon, scheduled for June 9th.