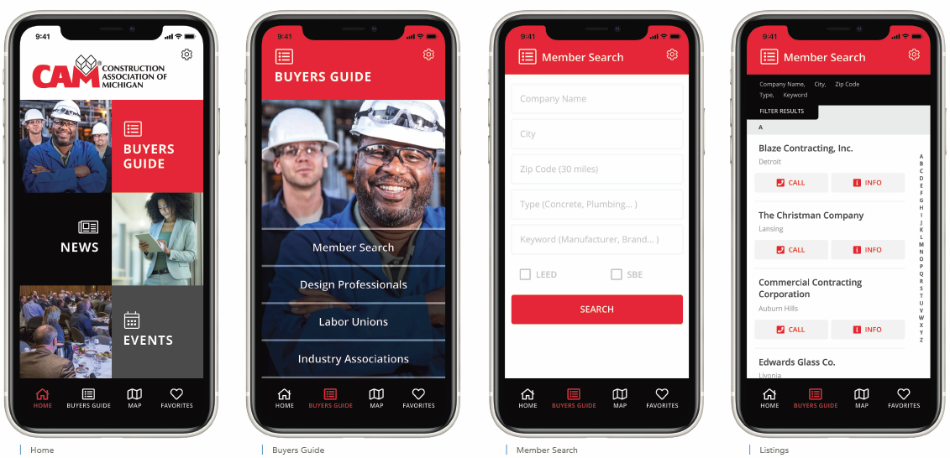 Construction Buyers Guide: There's an app for that
CAM Launches New Mobile App
If you've ever tried using an internet search engine to locate a resource to support your business, you know your results will be full of paid advertisements, misinformation, inaccurate contact data, and hundreds of companies that don't quite fit your intended search criteria. Construction companies, suppliers, and business service providers are a dime a dozen but how do you locate and target the "good" ones?
The Construction Association of Michigan is a membership-based trade association, connecting commercial and industrial construction companies to bid opportunities since 1885. In 1936, we printed the first Construction Buyers Guide. It began as a pocket-size book, listing CAM member firms and their contact information.
Over the years, the Construction Buyers Guide became a staple in most construction trailers. It wasn't unusual to find well-worn, dogeared copies on the desks and in the work vehicles of building managers, project managers and superintendents. In the last 84 years, it has grown from a small booklet to a 7"x11" (no longer pocket-size!) ring-bound directory, averaging over 300 pages of contact information for architects, engineers, trade associations, labor unions, and CAM member companies. It continues to be a valuable resource throughout Michigan's commercial and industrial construction industry.
With the advent of mobile phones and our increasing dependency on them to perform day-to-day business operations, the time has come for the clunky Buyers Guide to undergo a dramatic transformation into a fast, user-friendly mobile app.
Since August of 2019, the CAM team, together with our development partner jacapps, has been working to bring you the Construction Buyers Guide App, now available in the Apple and Android stores. It is free to download.
Being a CAM member implies a certain level of professionalism, sophistication and legitimacy. If you're seeking a resource to support your construction business, you will find it in the Buyers Guide App. The contact information will be current, relevant, and useful.
For more information on getting listed, contact the Construction Association of Michigan at www.buildwithcam.com or call (248) 972-1000.
Scan to Download