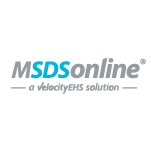 Member Benefit: MSDSonline
CAM Member Benefit
Powerful, Cost-Effective Solutions for HazCom/GHS Compliance!

MSDSonline – a VelocityEHS Solution, is a Preferred Vendor Providing Special Discounted Rates – Schedule a Complimentary Demonstration Today!
Construction Association of Michigan members know the challenges businesses face working to ensure employee safety while also staying current with an evolving regulatory landscape, including changes brought on by GHS. Cloud-based MSDSonline chemical management solutions help make workplaces safer and compliance easier by providing users with seamless access to the leading inventory of safety data sheets, including those in the new GHS-aligned format.
Thanks to a special preferred vendor arrangement, CAM members can quickly and easily sign up with MSDSonline to access everything needed to centralize Hazard Communication and GHS compliance across their entire organization, including:
Safety Data Sheet Management
Right-to-Know Compliance Tools
Chemical Inventory Management
Chemical Approval Workflows
Auto-Flagging & Management of Banned Chemicals
Regulatory Reporting Tools
Emergency Response Services (add-on service)
Schedule a demo today! To get started, you can click the Request Quote button on this page, or contact Kate Schalk (312) 881-2488, kschalk@ehs.com.