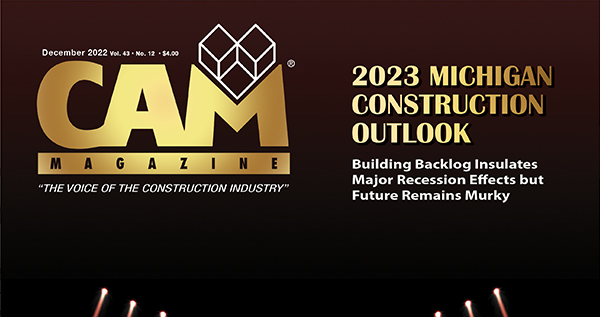 CAM Magazine's December Issue 2022 Is Ready to View
CAM Magazine

- December 2022
Milestone Anniversaries
Michigan Construction Outlook
December 2022, Vol 43, No. 12
---
MILESTONE ANNIVERSARIES
Featuring CAM Member Companies That Are Celebrating Milestone Anniversaries in 2022 and 2023
2023 MICHIGAN CONSTRUCTION OUTLOOK
Building Backlog Insulates Major Recession Effects But Future Remains Murky
To view the Magazine, click here.
The editorial blurb for George I. Landry Inc. was inadvertently omitted from this issue's Milestone Anniversaries article. Please join CAM in congratulating the Landry family and the employees of George I. Landry Inc. for 50 successful years in business.
George I. Landry Inc.
50th Anniversary in 2022
George I. Landry Inc. (Landry Carpentry), was founded in 1972 by George "Irv" Landry after working 20+ years as a foreman carpenter for Carpentry By Landry, where he worked alongside his four brothers. The focus for his new company in the early days was residential and small commercial projects. By the mid-1980s, sons Richard and Patrick were joining the family business starting as apprentice carpenters and learning the trade from the bottom up. In 1992, Irv retired and Richard and Patrick took over the company and quickly changed their focus to more of the commercial side and took on larger commercial jobs.
"For 50 years, we have been trusted by some of the region's largest corporations and families on their newest projects. To ensure the highest quality work, our carpenters go through a four-year apprenticeship school to learn the basic fundamentals of carpentry and then develop their skills working alongside the top carpenters we employ. Landry Carpentry is committed to make every project a success for the owners, architects, general contractors, and our employees." George I. Landry, Inc. is still owned and operated by Patrick, with his son Nick joining the family business in 2016.