The Construction Association of Michigan is recognized by SHRM to offer Professional Development Credits (PDCs) for SHRM-CP® or SHRM-SCP® recertification activities.
This program is valid for up to 4 PDCs for the SHRM-CP or SHRM-SCP. Refer to workshop description. For more information about certification or recertification, please visit portal.shrm.org.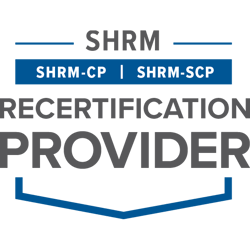 Identifying and Hiring the Ideal Team Player
Shawn Spencer
Team players add immediate value to any organization, but how do you target your hiring strategy to select the right candidate? Based on the principles outlined in the book by the same title, this session will reveal the three indispensable virtues of the ideal team player, how to identify the individuals that will require much less coaching and management to contribute in a meaningful way, and how you can become a better team player. (1 PDC)

Improving Communication to Connect with Field Employees
Andrea Wright
Connection at work is critical. Organizations have a hard time defining it, measuring it, and creating it. But employees crave it, and they are quitting to find it. If you're looking to develop better connections with your team in the field or in the office, this session is for you. We will define employee connection and discuss how to strengthen these important relationships through tactical approaches that can be applied to all business relationships. (1 PDC)

Creating a Culture that Works for Everyone
Sam Clark
Lyn Hewitt
Creating a more inclusive organization takes effort. Learning to recognize individual people's differences and recognizing these differences as important is a process that starts from the top down. Join this session to learn more about the how-to, lessons learned, and program successes from an industry leader. (1 PDC)

Tackling the Challenges of a Hybrid Work Environment
Carolyn Elliot
In a post-pandemic world, the way we work will never be the same. While a hybrid work environment has many benefits, it also comes with potential legal issues that businesses need to be aware of before making the switch. Three main areas that employers should pay attention to are discrimination, accommodation, and documentation issues. This workshop will cover both the company culture aspects as well as the nuts and bolts on policies and procedures that will drive a successful adaptation of a hybrid work environment. (1 PDC)

Prioritizing Mental Health for All Workers
Patrick Hall
With suicide rates the highest among industries, the construction industry faces a full-blown epidemic. The problem is exacerbated by a "tough guy" culture with a stigma around discussing mental health. As a construction employer, it is critical to creating a supportive environment with resources openly available and known to help employees in need. In this session, take a deep dive into the statistics and learn about the tools available to support your staff.

Going Beyond the Ordinary: Employee Benefits that Attract Top Tier Talent
Panel Discussion
In order to keep your organization relevant, stay competitive for top tier talent, and retain current key players, organizations would do well to consider reevaluating and redesigning their current benefits programs for modern employee needs. Join this session to hear from businesses that are consistently recognized for their unique approach to employee satisfaction that goes beyond the standard medical/dental/vision plan. (1 PDC)

Onboarding Employees to Maximize Success
Mary Ann Fisher
Finding the best candidates for positions in your organization is only part of building an effective team. The process of onboarding new employees can be one of the most critical factors in ensuring recently hired talent will be productive, contented workers. You only get one chance to make a first impression! When a new hire joins your team, are you wowing them on day 1? (1 PDC)

Hiring for High Performance Individuals and Teams
Julie Tabish
Did you ever hire someone that you were super excited about and then they failed to meet your expectations? Most people make hiring decisions with emotions versus logical thinking. The reality is that you need both. You need to connect with your employees and your employees need to connect with your culture. They also need the competencies and skills to excel in the role. Attend this workshop to gain insight and best practices to hire the right fit for the role and culture. We will discuss the importance of creating clarity of what is expected of the role, incorporating core values in the interview process, utilizing assessments to add objectivity to hiring and development once hired and integrating into the team. Your people are investment, let's make sure you are optimizing you ROI. (1 PDC)

Building Relationships on a Foundation of Trust
John Ball
Lisa Goyette
In every work environment from in-person in-office, to fully remote (aka distributed work), to hybrid, trust is the most important factor for workplaces to succeed. Join this session to learn more about building relationships on a foundation of trust, which will result in long term employees and a reduced turnover rate. (1 PDC)