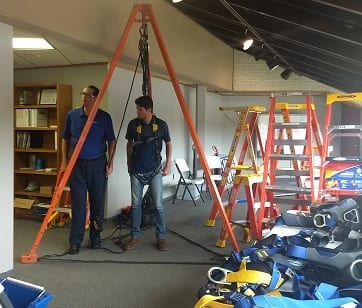 CAMSafety Presents Free Fall Protection Training
On August 15, Dick Gober and Pat Palmer of Flaherty Sales/Werner, and CAMSafety partnered to bring an important safety program on ladder safety and fall protection practices to the CAM training center as part of OSHA's Safe + Sound Week. Falls continue to be the leading killer of construction workers, and according to a study done by the Center for Construction Research and Education (CPWR), falls from ladders accounted for 24% of all fall-related fatalities during the period of 2011 to 2015. These incidents are preventable.
The presentation included equipment demos, hands-on exercises, and discussions on inspections and care, post-fall condition procedures, OSHA and insurance compliance, and more.
For more information, contact Pat Palmer, (216) 905-8511 or ppalmer@flahertysales.com.
If you have Fall Protection training needs, contact CAMTEC at (248) 972-1133 or email lewis@buildwithcam.com.